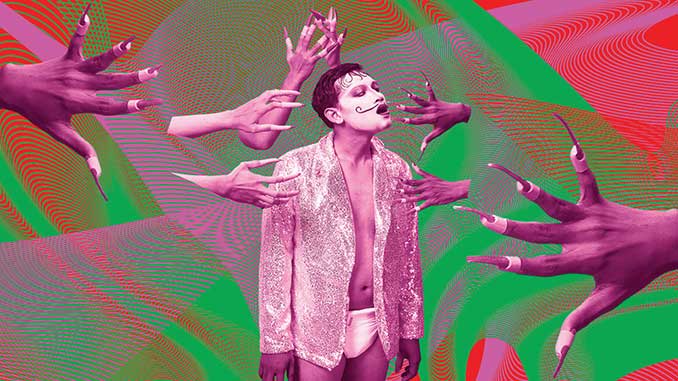 Performance Space has announced the full artist line up for the Liveworks Festival of Experimental Art 2021 program to be held online and at Carriageworks this October.
Amidst ongoing upheaval for arts events across Australia and internationally, Performance Space remains committed to presenting a platform for high calibre, boundary-pushing work from artists, for its seventh year of Festival programming.
Liveworks Festival of Experimental Art 2021 will work within the current climate of possibilities to realise its festival program with a vision to enliven digital screens across the world, and invigorate physical spaces at their home at Carriageworks (pending Covid-19 restrictions and health advice in late September).
"Liveworks 2021 features some of the most brilliant, luminous, inventive and resilient artists of our current times, and I am thrilled to be presenting their work as a beacon of hope in this chaotic and unpredictable moment in history," said said Jeff Khan, Artistic Director and CEO, Performance Space.
"This year, we are announcing our ticket releases for the program in two stages, with our final group of artists' projects going live on 22September. This is so that we can plan the festival according to the most up-to-date health advice and directives, and give artists and audiences alike the surety that what we're announcing can actually go ahead," said Khan.
Liveworks Festival of Experimental Art 2021 will offer audiences the opportunity to experience art that affirms our capacity for renewal, wonder and transformation with internationally recognised artists announced for this year including Sue Healey (Australia), Luke George (Australia) and Daniel Kok (Singapore), SJ Norman (Australia) and Joseph M. Pierce (USA), Amrita Hepi (Australia), Cherine Fahd (Australia), Ivey Wawn (Australia), Julie-Anne Long (Australia), Field Theory (Australia), and Natasha Tontey (Indonesia).
Liveworks 2021 emerges in three program streams: Live Futures – a new series of artist-led conversations about the future; Live Dreams – a dynamic platform for works-in-progress, exploring the art of tomorrow; and Live Now – the presentation of captivating, bold new experimental art from the Asia-Pacific, expanding our perspective on what's possible.
"Performance Space's digital events, which we initiated last year for Liveworks 2020, seek to create surprising, meaningful and transformative encounters between artists and audiences, in an era where physical gatherings have become virtually impossible," continued Khan.
"Far from the formulaic live stream of a panel discussion or static camera at the back of a theatre, our digital commissions and programs for Liveworks explore new possibilities for liveness and expand our sense of what live performance can mean in the digital realm."
"We have always conceived Liveworks as an Asia Pacific festival and these digital events enable our audiences to stay connected with art from across the region. They also allow us to nurture international collaboration at a time when Australia's borders remain resolutely closed."
"A cross-border, participatory experience – where the performance takes place in multiple locations around the world simultaneously – is impossible to replicate in a traditional theatre or gallery environment, and we are thrilled to support artists' visionary approaches to these new artistic possibilities," said Khan.
The second round of Liveworks 2021 projects will be led by renowned artists Sue Healey, Amrita Hepi, Cherine Fahd, Ivey Wawn, Julie-Anne Long, Field Theory and the acclaimed Day for Night. Full program details of the presentation of these works (with the intent for them to be live) will be released alongside second release tickets, announced on 22 September.
This later release is designed to accommodate up-to-date Covid-19 restrictions and health advice. Planned to take place in-person at Carriageworks, each project has a digital contingency in the event that venues remain closed in Sydney.
---
The Liveworks Festival of Experimental Art takes place online and at Carriageworks: 20 – 24 October 2021. For more information and full program, visit: www.performancespace.com.au for details.
Image: Liveworks Festival of Experimental Art 2021 | photo by Yudha 'Fehung' Kusuma Putera | Art Direction by Natasha Tontey | Designed by leuver designs.