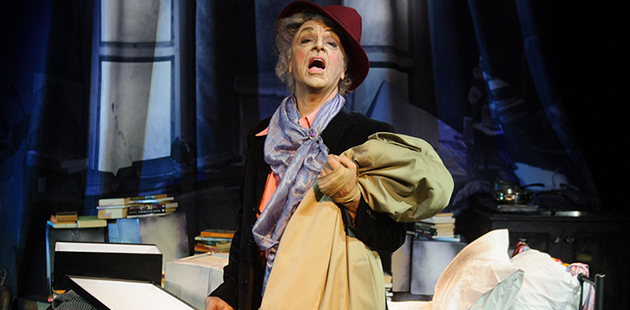 Five-time Helpmann Award winner Paul Capsis reprises his acclaimed performance as The Naked Civil Servant, Quentin Crisp in Tim Fountain's Resident Alien at fortyfivedownstairs, the Brisbane Powerhouse and NORPA Lismore City Hall in May, before heading to Sydney's Seymour Centre in June.
From his early years as an androgynous nude model in 1930's London, to finding fame as the first to speak so openly about life as a gay man, there was no one quite like Quentin Crisp.
"He was THE prototype androgynous man," says Capsis. "Before Bowie, Freddie Mercury, Liberace, Reg Livermore, before the times we could categorize or describe a person as transgender or sexually ambiguous, there was Quentin."
Presented by Cameron Lukey and directed by Green Room Award winner Gary Abrahams, UK playwright Tim Fountain's Resident Alien invites audiences to the legendary writer's famously filthy New York apartment for an unforgettable heart to heart about life as only he knows it. Oprah Winfrey, Princess Diana, oral sex – no topic is off limits as Quentin explains, in his inimitable way, how to be happy.
From his AFI nominated role in Head On, to his recent appearances in Calpurnia Descending and Cabaret, Capsis has forged a remarkable career playing with androgyny. In Resident Alien, he relishes the opportunity to pay tribute to a personal hero: "When it really was dangerous to play with gender, Quentin went there, with his blue eye shadow, permed purple hair and his cravats and lapelled gardenia's, prancing down the war torn streets of homophobic London in the 40s.
"With his razor sharp wit and frank telling of how he saw the world, nothing was spared. He was like a Joan Rivers without the punch lines. In this regard, Quentin Crisp was a most important figure. A lone revolutionist. We need to be reminded of people like him, before the times of Caitlyn Jenner and the Kardashians!"
"Capsis delivers a truly astonishing account, well realised at every level from the grandest flourish to the smallest gesture." – Limelight Magazine
Director: Gary Abrahams Starring: Paul Capsis Set & Costume Designer: Romanie Harper Lighting Designer: Rob Sowinski Sound Designer: Daniel Nixon Writer: Tim Fountain Producer: Cameron Lukey
Resident Alien
fortyfivedownstairs, 45 Flinders Lane, Melbourne
Season continues to 13 May 2018
Information and Bookings: www.fortyfivedownstairs.com
Brisbane Powerhouse, 119 Lamington Street, New Farm
Season: 17 – 20 May 2018
Information and Bookings: www.brisbanepowerhouse.org
Lismore City Hall, 1 Bounty Street, Lismore
Season: 23 – 26 May 2018
Information and Bookings: www.norpa.org.au
Reginald Theatre – Seymour Centre, Corner City Road & Cleveland Street, Chippendale
Season: 16 – 20 June 2018
Information and Bookings: www.seymourcentre.com
Image: Paul Capsis as Quentin Crisp in Resident Alien – photo by Sarah Walker