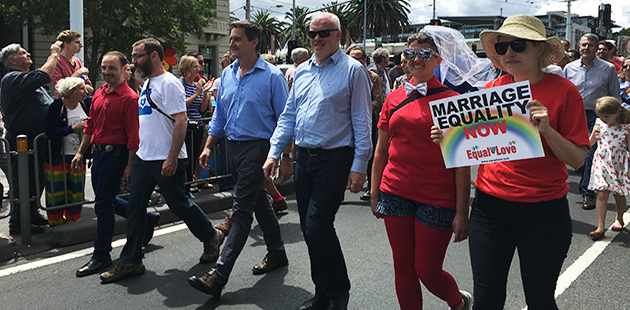 Marriage equality advocates say they are confident there is majority support for marriage equality in both houses of federal parliament and have called on Prime Minister, Malcolm Turnbull, to abandon plans for "an expensive and divisive" plebiscite.
"We're confident the numbers are there for marriage equality to pass both houses of federal parliament right now if a free vote is granted to Coalition members," says Australian Marriage Equality National Director, Rodney Croome. "This means there's no need for an expensive and divisive plebiscite."
"We urge Malcolm Turnbull to bring back marriage equality legislation, allow a free vote and get this done straight away so Australia can move on. This is a historic moment in the marriage equality campaign because it is the first time we can be sure reform has the support to pass federal parliament."
Mr Croome said the majority is made up overwhelmingly of declared supporters plus a handful who have indicated their support privately.
"Among the majority in support are a handful of politicians yet to declare their stance but we're confident from the private conversations they've had with us, local campaigners or party officials that they will vote for marriage equality," said Croome.  "The majority is slim but support for marriage equality never goes backwards and is likely to increase during a parliamentary vote with both Turnbull and Shorten in support."
"The need to keep the party together, and the possibility of a loss on the floor of the house, were the two main reasons many supporters of marriage equality in the Coalition backed a plebiscite. Senators Abetz and Bernardi have nixed the first rationale by saying they're unlikely to abide by the plebiscite outcome and our numbers remove the second rationale."
"Australians want marriage equality and are weary of waiting for it. It's time for the Prime Minister to show leadership and get this done," concluded Croome.
For more information, visit: www.australianmarriageequality.org for details.
Image: Marriage Equality Supporters take part in the Midsumma Pride March – photo by Rohan Shearn