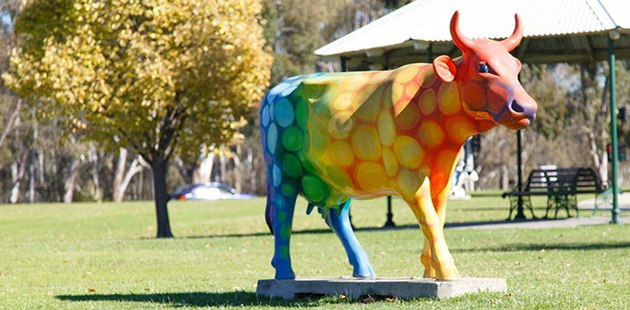 A huge turnout is expected to converge on the Victorian Regional City of Shepparton this weekend to celebrate community diversity at the annual OUTintheOPEN Festival.
Now in its fourth year, OUTintheOPEN was developed to address some of the inequalities faced by the local gay, lesbian, bisexual, transgender, intersex, queer (GLBTIQ) & allied communities and to build a more inclusive community in Greater Shepparton.
The festival commences on Friday 6 November with the Working with same sex attracted, sex and gender diverse young people & their communities Forum. A full-day event, speakers include Gender & Sexuality Commissioner, Rowena Allen, Daniel Witthaus, Jax-Jacki Brown, Sandy Ashon and Damien Stevens. The Forum will also include the National Institute for Challenging Homophobia Education (NICHE) regional launch at 3.30pm.
Carnival Day is OUTintheOPEN's BIG event! Come and play in Queen's Gardens on Saturday 7 November from 10.30am – 4.00pm. Wander through the stalls and markets; savour the smells and tastes of fresh local produce. There's music, entertainment, food & info galore. Bring your friends, family and loved ones and don't forget your picnic blanket!
Other events throughout the weekend include Nath Valvo in Happy Idiot on Friday 6 November, The Glitta Supernova Experience on Saturday 7 November (both events at The Vault), and the special OUTintheOPEN screening of All About e on Sunday 8 November at the Village Cinemas .
Shepparton's most fabulous party is back at the Aussie Hotel on Saturday 7 November. Hosted by Rhubarb Rouge, The Glamour Party features many drag shows, burlesque performances, and a fabulous DJ spinning sick tunes to keep you dancing all night!
The BIG Community Brunch on Sunday 8 November provides a wonderful opportunity to celebrate the Festival together with friends over a cup of great coffee and a spread of goodies fresh out of the Lemon Tree kitchen.
And a trip to the region wouldn't be complete without checking out the region's unique and ever changing public art exhibition. Scattered across Greater Shepparton's parks, gardens, riverbanks and public spaces are an array of colourful, ever changing fiberglass cows that make up the MooovingArt Herd.
The 2015 OUTintheOPEN Festival runs 6 – 8 November. For more information, visit: www.outintheopen.org.au for details.
Image: Rainbow Cow in Shepparton