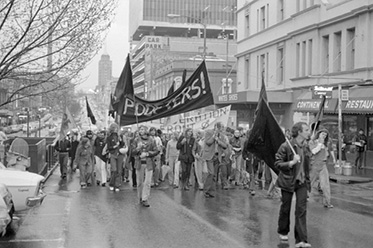 Examining for the first time images from the period as works of art as much as social documents, Out of the closets, into the streets: gay liberation photography 1971-73 pictures the very beginning of the gay liberation movement in Australia through the work of Philip Potter, John Storey, John Englart, Barbara Creed, Ponch Hawkes and Rennie Ellis.
As gay people found their voice in the early 1970s artists, often at the very beginning of their careers, were there to capture meetings in lounge rooms, consciousness raising groups and street protests. The liberation movement meant 'being there', putting your body on the line.
"This embodied politics couldn't stop in the streets: that is, the public arena as conventionally understood. Being there' politically also applied to households, classrooms, sexual relations, workplaces and the natural environment."  – Raewyn Connell. Ours is in colour: the new left of the 1960s
Curated by Dr Marcus Bunyan and Nicholas Henderson and with a catalogue essay by Professor Dennis Altman, the show is a stimulating experience for those who want to be inspired by the history and art of the early gay liberation movement in Australia.
The exhibition coincides with AIDS 2014: 20th International AIDS Conference and will travel to Sydney in November to coincide with the 14th Australia's Homosexual Histories Conference.
Out of the closets, into the streets: gay liberation photography 1971-73
Edmund Pearce Gallery, Level 2, Nicholas Building, 37 Swanston Street, Melbourne
Exhibition continues to 26 July 2014
Free entry
Image: Ponch Hawkes, Gay Liberation march, Russell Street, Melbourne, 1973 Digital C type print on Kodak Endura Matte © Ponch Hawkes