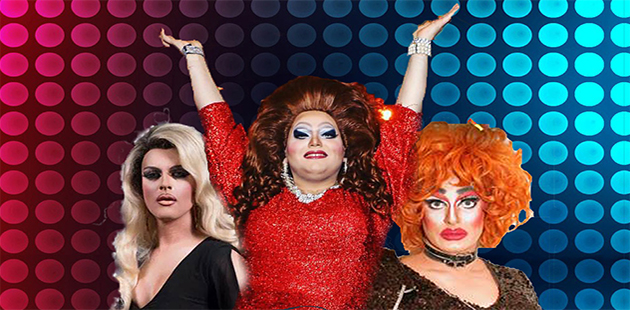 There's something for everyone at this year's OUT in the OPEN Festival Shepparton! With 11 events over three and a half huge days, visitors and locals alike have countless opportunities to celebrate community diversity in all it's forms across the City of Greater Shepparton: 2 – 5 November 2017.
OUT in the OPEN kicks off on Thursday 2 November with the Blended Fruits Networking Mixer at Noble Monks – bringing local business and industry representatives together with Melbourne-based GLOBE members to celebrate a shared commitment to diversity and inclusion.
Friday 4 November offers a health care sector event at GOTAFE – a Trans & Gender Diverse Youth Inclusive Practice Training – this seminar aims to develop individual practitioner and organisational capacity to provide accessible and inclusive services for trans and gender diverse children, young people and their families.
While in the evening, Melbourne's favourite queerdo comics hit the Bakehouse Black Box Theatre! Lisa-Skye and Daisy Berry will mess you up. With laughter. Friendly, friendly laughter. Nothing's off limits: in this double-header stand-up show, they dive into what it is to be queer in a world that can be so, so straight. Join them for one night only!
Carnival Day on Saturday 4 November is OUT in the OPEN's signature event in the Queen's Gardens – wander through the stalls and markets; savour the smells and tastes of fresh local produce & home-made treats. There's music, entertainment, food & info galore. Bring your friends, family and loved ones and don't forget your picnic blanket or chair!
A night of frivolity and debauchery, the Glamour Party is back at The Aussie Hotel from 8.00pm. An unforgettable night hosted by Rhubarb Rouge and including performances by Melbourne Drag sensations Krystal Ring and Racquel Williams, the Glamour Party will have live DJ spinning tunes all night long.
On Sunday 5 November, wake to a beautiful Earth Meditation in Queens Gardens at 9.30am sharp – be guided in a gentle relaxation and meditation that will awaken your senses, before a scrumptious BIG Community Brunch at the Lemon Tree Café at 11.00am – a wonderful opportunity to celebrate the festival together with friends over a cup of great coffee and a delicious spread of goodies fresh out of the Lemon Tree kitchen.
And finally, the Festival comes to an end with the screening of First Girl I Loved at the Village Cinema at 1.00pm. A high-school love triangle develops when Anne falls for a girl on the softball team, inadvertently dashing the hopes of her friend Cliff. Kerem Sanga directed this coming-of-age drama.
The OUT in the OPEN Festival Pass has returned – for $60, enjoy access to Friday night's Comedy – An evening with Lisa-Skye and Daisy Berry; Saturday night's Glamour Party; and the Big Annual Community Brunch on Sunday morning. But be quick, there's only a limited number of these passes and they're sure to sell out!
"Visitors and locals alike have countless opportunities to celebrate pride & community diversity in ALL it's forms across the City of Greater Shepparton!" says Festival Director Damien Stevens. "Buckle in & enjoy the ride that is OUTintheOPEN Festival 2017!
The 2017 OUT in the OPEN Festival runs 2 – 5 November. For more information and full program, visit: www.outintheopen.org.au for details – or download the Festival Guide!
Image: OUTintheOPEN Glamour Party (supplied)