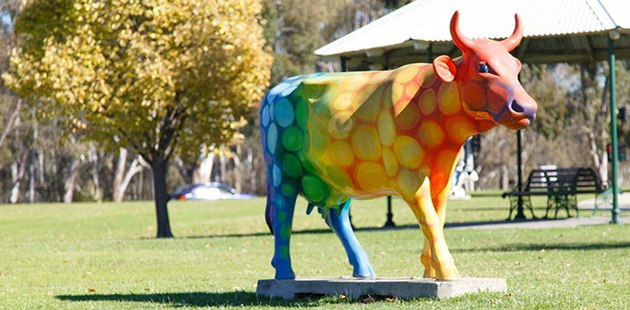 There's something for everyone at this year's OUT in the OPEN Festival Shepparton! With 13 events over three and a half huge days, visitors and locals alike have countless opportunities to celebrate community diversity in all it's forms across the City of Greater Shepparton: 3 – 6 November 2016.
OUT in the OPEN kicks off on Thursday 3 November with The Gathering at Noble Monks featuring live music and superb food – a fun, warm welcome to Shepparton's pride and diversity Festival.
Friday 4 November offers two health care sector events at La Trobe University – a Trans & Gender Diverse Youth Inclusive Practice Training and THRIVE: Connecting ATSI & CALD LGBTI Communities.
Get up close and personal with Victoria's first Gender & Sexuality Commissioner, Rowena Allen at a special dinner celebrating the LGBTI community and allies at the Peppermill Inn at 6.30pm. Hosted by Michael Dalton, the evening includes a fun & informal Q & A and maybe an impromptu performance! Then stay on for Kaye Sera's Cabaret Bizarre at 9.00pm – a much loved singer and queer media personality, and one of Australia's few drag acts to sing live, Kaye invites you to join her bizarre world of lust, legs, love and life…
Carnival Day on Saturday 5 November is OUT in the OPEN's signature event – with over 60 market stalls, food vendors, live entertainers, fun attractions, and a live ONE FM radio broadcast, this family-friendly event in Queens Gardens makes a great, free day out for everyone – petting zoo and jumping castle included!
Carnival Day not your thing? Check out Greater Shepparton's rainbow-flag covered CBD for great restaurants, awesome shopping, and other attractions on offer in the region. Have a Lazy Lunch with the VicBears at The Aussie Hotel at 1.00pm, or head on down to the Pop-Up Club at The Deck between 4.00 – 8.00pm. Grab a bite and a bevvy amid some terrific tunes and some surprise treats.
A night of frivolity and debauchery, Shepparton's biggest Glamour Party is back at The Aussie Hotel from 8.00pm. With drag shows throughout the evening featuring Racquell Williams, Tia Maria and Drags Aloud's fabulous Amanda Monroe & Jessica James! Amy Newtown Dance Studios serving cabaret realness, a topless male dancer, and a whole lot more!
On Sunday 6 November, wake to a beautiful Earth Meditation in Queens Gardens at 9.30am sharp, before a scrumptious BIG Community Brunch hosted by Goulburn Valley Pride at the Lemon Tree Café at 11.00am. Then at 2.00pm, local choir 36 Degrees South and visiting Melbourne choir Low Rez, host Chorale Collaboration at the Wesley Church. This hour-long recital will be complimented by a delicious afternoon tea of home-made cakes and slices!
And finally, Equal Love Greater Shepparton's film screening of The Queen of Ireland at the Village Cinema at 4.00pm. Within mainstream media, Rory O'Neill and his drag alter-ego Panti Bliss are commentators on the fringes, standing on the outside, looking in and saying the unsayable. Her fight for equality and against homophobia has become recognised across the world.
This year OUT in the OPEN have introduced a $50 Festival Pass – enjoy access to Friday night's Cabaret, Saturday night's Party and Sunday morning's brunch. But be quick, there's only 50 of these little diamonds and they're selling like hotcakes!
"OUT in the OPEN Festival Shepparton is so proud to be turning five, and values/appreciates your support and commitment to being inclusive and celebrating diversity," says Festival Director Damien Stevens. "Join us – be part of Greater Shepparton's newest Festival celebrating community diversity this November."
OUT in the OPEN Festival Shepparton runs 3 – 6 November 2016. For more information, visit: www.outintheopen.org.au for details.
Image: Shepparton is famous for its moooving art initiative