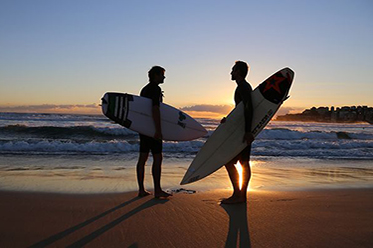 Top wave-riders from around the world have spoken out for the first time on the challenges of being gay in the surf. Gay surfers have traditionally hidden their sexuality on the waves, fearing ridicule, threats, bashings and ostracism.
High-profile members of the surfing community have now spoken on camera about this hidden side of surf culture in a cutting-edge documentary. Former world champions are among the many surfers and social commentators featuring in OUT in the line-up – a documentary uncovering the taboo of homosexuality in surfing.
Despite an increase in the number of elite athletes coming out in other sports, there has never been an openly male gay surfer on the professional tour. In the wider surf community many hide the fact they are gay because of fear of rejection and some surfers have even taken their own lives as a result of non-acceptance.
OUT in the line-up follows the story of two gay surfers who unite to bring this issue out into the open. Together they embark on a global journey to hear the perspectives of people from all corners of the surfing community including former world champion Cori Schumacher, big-wave rider Keala Kennelly and former US Congressman Barney Frank.
As their journey unfolds, they uncover a culture of fear, secrecy and exclusion but are also inspired to affect change by connecting people, provoking discussion and looking to surfing's grassroots values of freedom of spirit and love for the ocean.
OUT in the line up's Writer & Director, Ian Thomson says "The film investigates issues such as the history of homophobia in surfing, the gap between gay culture and surf culture, the issues facing gay women in surfing, the taboo of homosexuality in professional surfing as well as psychological and mental health issues that affect gay people within surfing communities."
"These stories unfold through the anecdotal descriptions of the film's lead protagonists, with added excerpts from a wide variety of participants – in order to create a broad coverage of experiences and points of view."
"The visual style of the film is observational and naturalistic and a modern homage to the classic surf film, featuring surfing and travelling montages to contemporary music."
OUT in the line up will screen at the following film festivals:
Byron Bay Film Festival
Friday 7 March 2014 – 7.30
For more information and bookings, visit: www.bbff.com.au
Melbourne Queer Film Festival
Sunday 16 March 2014 – 3.00pm
For more information and bookings, visit: www.mqff.com.au
Brisbane Queer Film Festival
Friday 28 March 2014 – 7.00pm
For more information and bookings, visit: www.brisbanepowerhouse.org
For more information about OUT in the line up, visit: www.outinthelineup.com for details.
Image: courtesy of Yellow Dot Productions