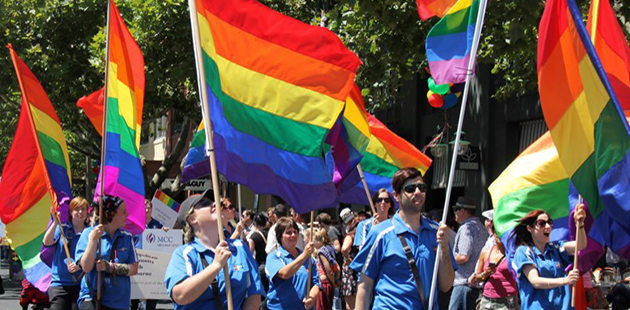 To mark the 20th anniversary of Victoria's first Pride March, the Victorian Premier will be the first Australian Premier or Chief Minister to lead a march for the lesbian, gay, bisexual, transgender and intersex community (LGBTI).
The Premier of Victoria, the Hon Daniel Andrews MP, will be joined by the Minister for Equality, the Hon Martin Foley MP, their wives, marchers from the first Melbourne Pride March back in 1996 and thousands of people as they march down Fitzroy Street St Kilda in support of the LGBTI community.
The 20th annual Pride March returns to St Kilda's Fitzroy Street at 2pm on Sunday 1 February – the time of year when LGBTI people from all over Victoria stand together to celebrate and empower the fight for equality – with more than 4,000 marching in the actual parade – drawing a crowd of upwards of 40,000 people that day in Fitzroy Street.
Over 130 organisations will walk in support of Pride March including City of Port Phillip, Dykes on Bikes, the Melbourne Gay and Lesbian Choir, the Rainbow Families Council of Victoria, the Victorian AIDS Council and Team Melbourne to name just a few. The groups marching represent a wide variety of organisations that support the community, provide services or contribute towards the fight for equality.
A number of straight allies will also join Pride March including members of Victoria Police, the Victorian State Emergency Service, players from the St Kilda Football Club and a range of other corporate and government organisations that support the LGBTI community.
Chair of Midsumma Festival Aaron Hockly said the historic occasion highlights how far the LGBTI community, and its supporters, have come in the past 20 years but there is a lot more to be done.
"LGBTI people march in solidarity with others around the world who continue to be persecuted or harmed because of who they are or who they love," says Mr Hockly.
"We also march to highlight what is left to achieve for equality in a range of areas including marriage, adoption and other laws."
Pride March will be held this Sunday 1 February. For more information, visit: www.midsumma.org.au for details.
Image: (supplied)