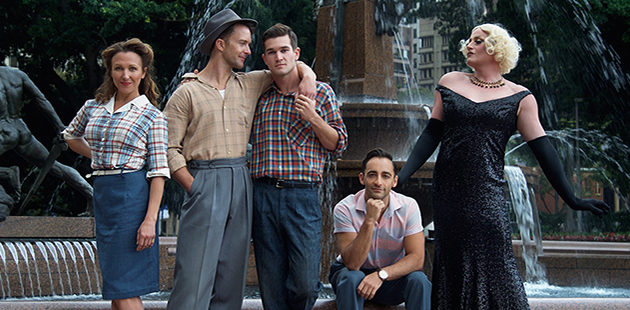 Following the success of their multi-award winning production of Miracle City, Luckiest Productions presents Alex Harding's Only Heaven Knows, the company's second revival production of an Australian musical. This brand new production is currently playing at Sydney's Hayes Theatre Co until 1 July 2017, and marks Only Heaven Knows' 30th anniversary.
Only Heaven Knows is a beloved musical set in the 1940s and 1950s, telling the story of one young man's discovery of love and life in Sydney. Tim, a teenage playwright, leaves an unsupportive family in Melbourne and arrives amidst the bohemian by-way of Kings Cross in the summer of 1944 where women and gay men are enjoying unparalleled freedoms after five years of war.
Tim soon finds love and a new family in Cliff his ocker lover, Guinea the tough but big-hearted nightclub singer, the flamboyant but sensitive Alan, and proud and fabulous Lana, a poor man's Robert Helpmann. The Sydney bacchanal soon fades however as the cold winds of intolerance brings in the Menzies era and Tim and his friends must learn to survive hostility in a time before a visible gay community existed.
This production is a welcome return of the piece to Sydney stages. There have been various productions over the last 30 years, most notably the sell-out season at the Stables, which transferred to the Sydney Opera House in 1995, starring David Campbell. David's company Luckiest Productions is behind this new production. "I think this is one of the most important Australian musicals that has been created," says Campbell. "I've never experienced such a simple show having such a visceral impact. While it so vibrantly paints the past, it speaks to us about today".
Luckiest Productions have assembled a stellar cast including Ben Hall who plays the central role of the bright-eyed Tim, direct from his role as series regular Ned Willis on Neighbours. Helpmann Award and Logie Award nominee Tim Draxl (A Place to Call Home) plays Cliff, while Hayden Tee has returned from Broadway, where he has been reprising his multi-award-winning performance as Javert in Les Miserables, to play the dual role of Lea/Lana.
After her breathtaking Sydney Theatre Award-winning performance of Lora-Lee Truswell in Miracle City, Blazey Best is reunited with Luckiest Productions to play the role of Guinea, and having just finished his critically acclaimed performance of Puck in STC's A Midsummer Night's Dream at the Sydney Opera House, Matthew Backer makes his Hayes Theatre Co debut as Alan.
Shaun Rennie returns to Hayes Theatre Co to direct Only Heaven Knows after his highly successful seasons of Rent and You're A Good Man, Charlie Brown, and Daniel Edmonds will be the Musical Supervisor, swapping the massive musical for the intimate having recently been Musical Director on such extravaganzas as Strictly Ballroom, King Kong and Dream Lover. Tony and Helpmann Award-winning scenic designer Brian Thomson (The King and I, The Boy From Oz, Priscilla: Queen of the Desert the Musical) has joined the creative team as Set Designer.
"Having long felt that Only Heaven Knows was an ideal fit for The Hayes, I am thrilled to be working with Luckiest Productions to reexamine this classic Australian Musical," says Rennie. "With it being set in and around the streets of Kings Cross, it is a unique and rare thrill to get to work on a story that is so deeply entrenched in this city we love."
"At its heart Only Heaven Knows is about community and the family we choose. By looking back it reminds us of how far we have come, but also forces us to see how far we have yet to go."
Alex Harding was a founding member of England's Gay Sweatshop Theatre Company in 1975. He was also part of The Bloolips radical drag troupe before coming to Australia in 1984. As a writer and playwright he has written Blood and Honour (shown at the Mardi Gras Festival 1990 and winner of the 1990 Human Rights Award for Drama); The Life and Times of Hanky Bannister; Three, The Reunion and Surry Hills, 2010.
Director: Shaun Rennie Featuring: Matthew Backer, Blazey Best, Tim Draxl, Ben Hall, Hayden Tee, Tom Sharah (26 June – 1 July as Alan) Musical Supervision: Daniel Edmonds Set Design: Brian Thomson Costume Design: Emma Vine Choreography: Ellen Simpson Lighting Design: Trent Suidgeest Sound Design: Neil McLean Production Management: Jack Daniel Woods Stage Management: Tyrone White Assistant Director: Tom Sharah Assistant Stage Design: Lauren Peters Assistant Stage Management:Brooke Almond Writer and Composer: Alex Harding
Only Heaven Knows
Hayes Theatre Co, 19 Greenknowe Avenue, Potts Point
Season continues to 1 July 2017
Information and Bookings: www.hayestheatre.com.au
Image: The Cast of Only Heaven Knows – photo by Johnny Diaz Nicolaidis