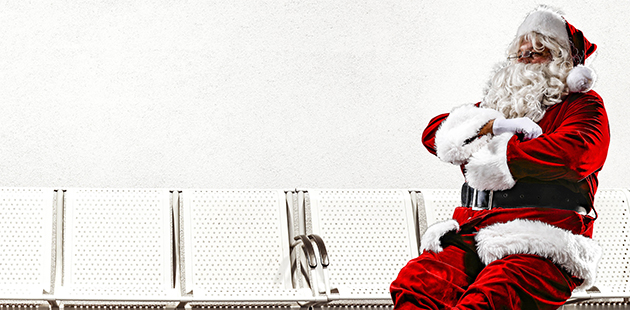 A brilliant play about the possibilities of life and of theatre, New Theatre presents Once In Royal David's City by much-loved award-winning Australian playwright, Michael Gow, for a limited season from 19 March 2019.
For middle-aged, gay theatre director Will Drummond, nothing is certain any more. His parents are suddenly old, his professional world is changing, everyone around him seems to be losing faith and losing the plot, and it feels as if society has lost its soul.
Christmas is often a difficult time for families to navigate and for Will, this year, it will become a time of reckoning and a journey of discovery towards a deeper, if not especially comfortable, awareness of himself.
This sprawling saga covers four decades, across two hemispheres, from intimate encounters to vast historical events, investigating the bond between mother and child, the loss of innocence, and the inevitability of death.
It is a powerful, angry, profoundly moving, viciously funny, brilliant play about the possibilities of life and of theatre, and a classic of contemporary Australian dramatic writing.
Once In Royal David's City will be directed by Patrick Howard, who brought to New Theatre, Five Guys Chillin' for the Sydney Fringe Festival last year. "When I first read the play, I immediately found myself identifying very strongly with the main protagonist, Will," says Patrick. "Gay, a theatre artist, a tiny bit hopeless, and moving into a drastically new chapter of his life."
"I think most people will be able to relate to the situation Will finds himself in in the play. At some stage we will all lose, or have lost, our parents, and it is a threshold into a place of great uncertainty," says Patrick. "And I think most people have had at least one Christmas that is quietly very sad, and know how cruel it can feel that the world goes on celebrating with joy around you."
What particularly appealed to Patrick was Gow's wonderful and fiercely intelligent writing, with its nods to Brecht and the importance of the ensemble to the story-telling. "It's a funny, incredibly touching, sad, bittersweet and shrewdly exact text. And the ensemble, on the big New Theatre stage stripped bare of set, will be integral to this production," he continued.
Patrick was thrilled when Artistic Director Louise Fischer asked him to take on the production. "It's so excellent that New Theatre has programmed a revival of this magnificent play. Michael Gow is one of Australia's best living playwrights, and Sydney hasn't seen a production of this play since its premiere at Belvoir in 2014," said Patrick.
"It's incredibly important that our best new writing is supported not only after a successful first season, but also not long after, to ensure that it's kept alive and isn't immediately consigned to theatre archives and scene work masterclasses. Once in Royal David's City deserves its place in the canon of Australian modern classics."
"And what does he hope audiences will take away from the production? "Well, I think a lot of people might need to call their mum to tell them they love them after seeing the show."
With extensive writing credits for stage, screen and radio, Michael Gow is a much-loved award-winning Australian playwright and director. His plays include Away, Toy Symphony, The Kid, On Top of the World, Europe, Sweet Phoebe, Live Acts on Stage, 17 (for the Royal National Theatre of Great Britain), and Once in Royal David's City. His plays have been performed in Poland, the Czech Republic, Vietnam, Japan and all over the US.
Michael has been Associate Director of Sydney Theatre Company and Artistic Director of the Queensland Theatre Company. He has directed for all the major Australian theatre companies as well as Opera Australia, Australian Theatre for Young People and the Lincoln Centre's New Visions New Voices programme. His awards include two NSW Premier's Literary Awards, two Sydney Theatre Critics Circle Awards and an AFI Award for writing the ABC miniseries Eden's Lost.
"Gow's insights into the act of theatre are reason enough to see Once in Royal David's City… you will find yourself moved and even stirred by this querulous, piercing play…" – The Sydney Morning Herald
Director: Patrick Howard Featuring: Alana Birtles, Ben Brighton, Amy Victoria Brooks, Sandra Campbell, Nathalie Fenwick, Nicholas Foustellis, Angela Johnston, Alice Livingstone, Aimee Lodge, Francisco Lopez, Martin Portus, Bryden White-Tuohey Production & Lighting Designer: Victor Kalka Sound Designer: Ryan Devlin Assistant Director: Trudy Ritchie Costume Assistant: Luciana Nguyen Production Manager: Cecilia Strachan Stage Managers: Christina McKune, Daniel O'Neill
---
Once in Royal David's City
New Theatre, 542 King Street, Newtown
Season: 21 March – 13 April 2019 (previews: 19 & 20 March)
Information and Bookings: www.newtheatre.org.au
Image: © magdal3na/Adobe Stock