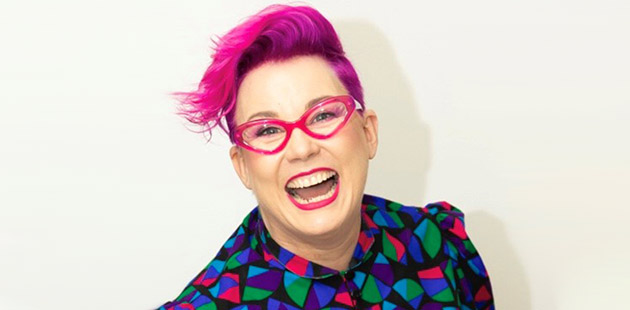 Who is Kerrie Stanley?
An award-winning milliner who has been one of Australia's most sought after milliners for almost two decades. A multi-faceted talent, she is also a highly sought after hair stylist and make-up artist with over 20 years experience in the fashion, theatre and commercial industries. She works for ABC Breakfast Television in Melbourne and has worked on Harry Potter and the Cursed Child.

What would you do differently from what you do now?
My life before all of this happened was extremely busy! I'm a workaholic (who thankfully loves my jobs across all of the creative fields I am involved in), but having this quiet time forced me to reevaluate what was really important to me and what I actually need to live a happy life. I don't want to go back to that lifestyle, so I plan on finding that sustainable balance.
Who inspires you and why?
Anybody who is excited and passionate with what they do, whether they are a creative (it doesn't matter the genre, we all speak the same language), an innovator, an activist, or a healer. I often come across stories of unknown everyday people who do incredible things and that always inspires me. Oh, and great dance music, it inspires me to get moving!
What would you do to make a difference in the world?
Small gestures make big statements. Have an open mind and heart, live with authenticity and encourage others to do the same. Kindness also goes a long way.
Favourite holiday destination and why?
I have not travelled that extensively (the big European trip this year for my 50th has to wait until next year!) but I do love London and can't wait to get back there. Closer to home, being a North Queensland raised girl I love getting outdoors so camping at The Cathedral Ranges is a fav.
When friends come to town, what attraction would you take them to, and why?
To the theatre or a show! There is always something fabulous going on in Melbourne, and a great night out is always a winner! I was working on Harry Potter and the Cursed Child (until Covid) in the Wigs and Makeup department, and having seen the show twice, I can't rave about it enough.
What are you currently reading?
Nothing longer than 5 mins. I tend to read books only on holidays. The bedside table pile is high and gathering dust.
What are you currently listening to?
Podcasts: Judith Lucy – Overwhelmed and Dying, Grounded with Louis Theroux; and I Weigh with Jameela Jamil. Music: DJ Bob Sinclair's isolation Lockdown sessions – I'm working my way through all 55 of them, so good!
Happiness is?
Hanging out with/creatively collaborating with my partner Lexi… laughing with my son Connor (he really should be a stand up comic)… when I dream of my daughter Rani (she passed away 2 years ago at age 18)… dancing with my friends… a really good vanilla slice… when I am in the creative zone… being entertained!
What does the future hold for you?
I would love for Kerrie & Dolly's House Party to have a long and bright future! It is a show for the people and our community and I am going to be able to get out and about soon to present more stories which I am really excited about. With so much talent in this country we could go on for years! We hope to have live shows with audiences when we are able to so that's something to look forward to. On another note, I also love my ABC family and I will continue to work on News Breakfast (hair and makeup) as it has been my stable job for 8 years now.
Kerrie joins Dolly Diamond to co-host Kerrie & Dolly's House Party – a live-streamed light entertainment variety program on the freshly launched JOY TV – Tuesday and Thursday evenings at 7:30pm (AEST). For more information, visit: www.joy.org.au , www.facebook.com or www.youtube.com for details.
Image: Kerrie Stanley (supplied)