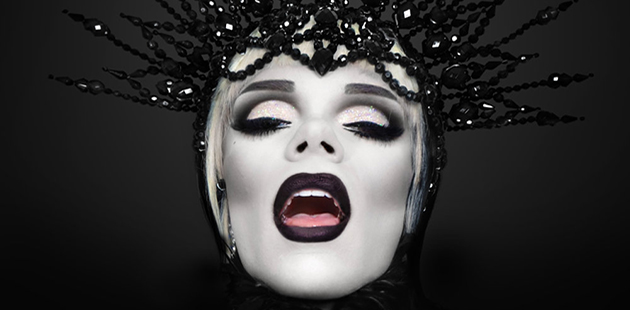 Who is Art Simone? 
A Drag Artist and lip-synch lover with a difference. She cries glitter, sweats sequins and has a bigger grin than Luna Park. As the club chameleon of drag, she is well known for her evolutionary looks and makeup designs worldwide.
What would you do differently to what you do now? 
Nothing! I'm doing what I love. Slathering myself in buckets of makeup, glitter and 6 inch stilettos – you can't beat that!
Who inspires you and why?
I'm inspired by anyone who has the guts to step out of the box and let their true colours shine. From Leigh Bowery to queer teenagers, they're my tribe and make me proud to do what I do.
What would you do to make a difference in the world? 
I'm already trying to do what other characters do for me – inspiring people to be proud of who they are and who they want to be. Let your freak flag fly baby!
Favourite holiday destination and why? 
Drag Queens are equivalent to vampires – we're not the biggest fan of the sun and natural elements. So of course I love Vegas – you can spend months without seeing a single ounce of daylight – and there are flashy things everywhere!
When friends come to town, what attraction would you take them to, and why? 
My friends are shopaholics and are fond of a good bite. So I love to take them down to chapel street for a fun day out. Then followed by a night at Vau d'vile Drag Cabaret – Australia's only Drag Queen owned, operated and designed venue!
What are you currently reading? 
I'm a personal fan of reading the back of toilet doors to keep up-to-date with all that's going on.
What are you currently listening to?
I'm a pop music fan through and through! With my line of fabulous work, you need to be up to date with the latest tracks so you can get those crowds screaming and singing along.
Happiness is? 
A fresh pair of eyelashes.
What does the future hold for you?
Lots more glitter, laughter, bigger audiences and a passport full of stamps from new and exciting destinations!
Known globally for her elaborate and artistic performances, Art Simone will be busting out her distinguished drag persona and bringing a razor-sharp edge to all things on Melbourne's Chapel Street at Provocare: 20 – 30 July 2017. For more information, visit: www.provocare.com.au for details.
Image: Art Simone – courtesy of Provocare