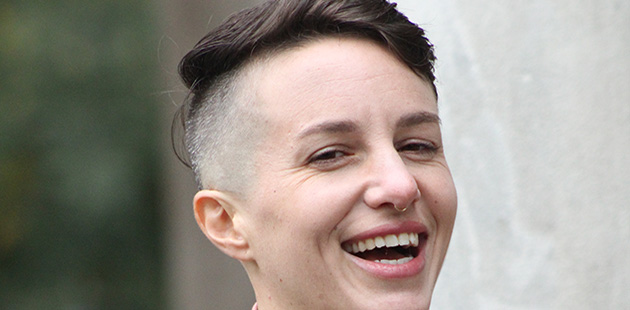 Who is Ania Upstill?
I'm a queer and trans clown, performer, acrobat and educator currently based in NYC on the indigenous land of the Canarsie peoples. I'm also the artistic director of Butch Mermaid Productions: a company name that also happens to be my gender identity.
What would you do differently from what you do now?
I would stretch more! I have a hard time making time for anything that is slow or meditative. I'm quite a high energy person and I thrive on a good project, but in my acrobatics practice and just generally in my life I think I could do with a slow down.
Who inspires you and why?
The Russian clown Slava because his work is so surreal and stunning and beautiful. Jo Randerson of Barbarian Productions in New Zealand with all the amazing Applied Theatre work that they do. And all the young queer people who are so unapologetic about who they are and so supportive of each other! The youth know what's up.
What would you do to make a difference in the world?
As a clown, I hope that I can bring people joy and absurdity, allowing them to take the world a bit less seriously and have more fun. Adults deserve to play too! As an educator (and as an artist) working with the LGBTQIA+ community and allies to create more expansive ideas of gender and a more just, accepting world.
Favourite holiday destination and why?
I went to Tonga a few years ago and stayed on a volcanic island. It was an incredible landscape and a very different culture from New Zealand (where I was living at the time). As complete strangers we got invited to a wedding feast, which I can never imagine happening in either the US or New Zealand. And Tonga is the only Pacific nation never to have been colonized, which is all sorts of interesting from an historical perspective.
When friends come to town, what attraction would you take them to, and why?
Right now New York is still pretty closed, but I'd take them up to the Met Cloisters at the top of Manhattan. The Cloisters were built from bits of European churches and monasteries to house the Met's Medieval Art collection, and it's a truly amazing and bizarre place. Then we'd go on a walk through Fort Tyron Park, which surrounds the Cloisters and eat some fantastic Colombian food in Inwood.
What are you currently reading?
I just finished Hamnet and I Am, I Am, I Am, both by Maggie O'Farrell. I'd never come across her writing before and now I'm obsessed! I just tried starting a novel by Alexander McCall Smith but it sort of makes fun of a parent trying to raise their child in a gender-neutral way so I'm going to look in my neighborhood's free libraries for a new book to sink my teeth into.
What are you currently listening to?
A lot of Chill Hop on YouTube. I'm currently studying for my Masters in Applied Theatre, and I can't really listen to anything with words while I read or write, but silence also makes me feel a bit crazy!
Happiness is?
That post-performance feeling when you know that you really connected with your audience. Generally, any creative process where you hit flow in your collaboration. Also, a leisurely dinner party with a group of friends, a long hike, swimming in the ocean.
What does the future hold for you?
I want to keep expanding on how to teach about gender, in performance and in the rest of life. I'd love to work in the Equity, Diversity and Inclusion field teaching workshops on LGBTQIA+ inclusion in the workplace and school. And always more clowning and more joy!
---
Ania is the artistic director of Butch Mermaid Productions – who are presenting Macábaret as part of the Melbourne Fringe digital program: 13 – 27 November 2020. For more information, visit: www.melbournefringe.com.au for details.
Image: Ania Upstill (supplied)