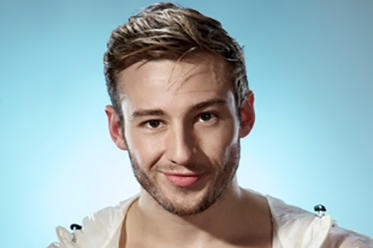 Just days after swimming legend Ian Thorpe won the love and support of the nation by coming out as gay, another Australian Olympian is publicly flying the flag for gay and lesbian acceptance, with champion diver Matthew Mitcham announced as official ambassador for the 2014 Feast Festival.
The openly gay athlete, who smashed records at the 2008 Beijing Olympics as the first Australian male diver to win gold since 1924 and the only diver in Olympic history to score a perfect 10 from every judge, will be the official face of the LGBITQ arts festival on in Adelaide in November
Currently preparing for the XX Commonwealth Games in Glasgow, 26-year-old Mitcham is also a talented singer and musician and will bring his solo cabaret show Twists and Turns to the festival.
"I am honoured and stoked to be the 2014 Feast Festival ambassador," said Mitcham. "Right now, I'm preparing to again represent Australia and the LGBITQ community at the Glasgow Commonwealth Games, but once that is over my sights will be firmly set on representing one of Australia's most exciting festivals, Feast. I look forward to hanging out with all the Feast family and its supporters in Adelaide come November."
Based on his autobiography of the same name, Twists and Turns is a musical exploration of the sometimes darker side of Mitcham's life behind the international spotlight, one plagued by low self-esteem, anxiety and depression, panic attacks, self-harm and drug abuse.
The award-winning show also explores Mitcham's struggles with his sexuality, as one of the few Olympians to compete at the event as openly gay, and is an inspiring story of a true champion both in and out of the pool.
Feast Artistic Director Catherine Fitzgerald said she was extremely excited to bring Mitcham on board as Festival Ambassador: "Matthew is a shining light as an incredible sportsman and a wonderful role model for our LGBITQ youth and community," she said.
"By openly sharing his struggle with his life in the spotlight and his status as a proud gay man he is an inspiration and a beacon for gay and lesbian people everywhere. With Matthew on board Feast is going for gold."
The 2014 Feast Festival runs 15 – 30 November. The full program will be announced on 16 September. For more information, visit: www.feast.org.au for details.
Image: Matthew Mitcham – photo by John McRae