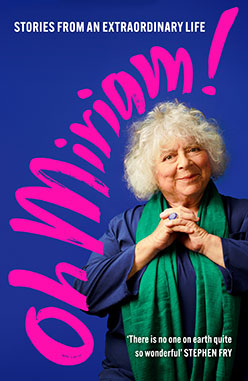 Join us on another unforgettable adventure through the extraordinary life and strong opinions of Miriam Margolyes.
"My new book is called Oh Miriam! – something that has been said to me a lot over the years, often in tones of strong disapproval. It contains lots more revelations and stories and discoveries and I can't wait to share it with you all!" said Miriam
From being escorted off the Today programme (for saying what we were all thinking) to declaring her love to Vanessa Redgrave; from Tales of the Unexpected to Graham Norton's sofa, she is our most loved and most outspoken national treasure.
Oh Miriam! takes you inside both her head and her heart. Buckle up for the most irrepressible, hilarious and moving read of 2023.
Born in Oxford, England in 1941 & educated at Newnham College, Cambridge, Miriam Margolyes OBE is an award-winning veteran of the stage and screen, and an internationally acclaimed voice-artist and documentarian.
Winner of the BAFTA Best Supporting Actress award for The Age of Innocence, she received an OBE in 2002 for Services to Drama. This Much is True, her long-awaited award-winning autobiography, was in the top ten for over a year. This is her second book.
---
Oh Miriam! – Stories from an Extraordinary Life is published by Hachette Australia (John Murray) and is available from all leading book retailers including QBD Books.
Image: Oh Miriam! – Stories from an Extraordinary Life – courtesy of Hachette Australia