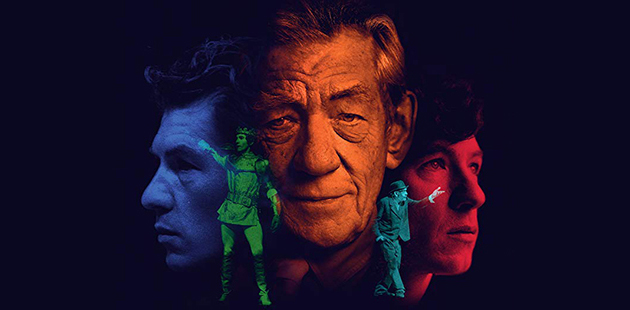 NSW LGBTQ seniors and their friends are set to celebrate all things queer on the silver screen, with the highly anticipated return of Afternoon Delight during July and August.
Produced by ACON, Afternoon Delight features a series of movie matinees and afternoon tea parties in Sydney and regional NSW for LGBTQ seniors and their friends. Now in its eleventh year, Afternoon Delight is presented in partnership with Uniting and Seniors Rights Service.
LGBTQ seniors will be treated to a selection of LGBTQ-themed shorts, followed by the feature film McKellen: Playing the Part. The acclaimed documentary that takes a closer look at Sir Ian McKellen's life, work and activism as one of only a few openly gay actors in Hollywood. The screening will be followed by a delicious afternoon tea, networking and access to local community health information.
"This is ACON's annual premiere event for LGBTQ seniors, their family and friends and we are excited to be marking Afternoon Delight's eleventh year," said ACON CEO Nicolas Parkhill. "Since it was first held in Sydney in 2007, Afternoon Delight has grown to include screenings across NSW, and this year, it will roll out in Wagga Wagga, Newcastle, Lismore, Katoomba, Sawtell and Sydney.
"We thank everyone for their getting behind Afternoon Delight throughout the years, and for their continued support for the health and wellbeing of older members of our communities. NSW has a significant older LGBTQ population and our rainbow seniors continue to play a vital and valued role in our communities."
"Events like Afternoon Delight allows for older members of our communities to get together in a welcoming environment, enjoy movies about their lives and also reduce a very real sense of social isolation that many can experience. During the afternoon tea, which in selected locations will be served by local drag performers, guests will have the chance to mingle, chat and pick up local health information about living well and healthy."
This year's screenings are presented by LGBTQ inclusive health and wellbeing organisations, Uniting and Seniors Rights Service, and supported by Queer Screen, NSW Nurses and Midwives Association, and LGBTIQ+ Funerals.
"We thank our partners and supporters for continuing to recognise the LGBTQ community in their celebrations and we look forward to working more closely with a range of community organisations to help provide more opportunities for older LGBTQ people in NSW," added Parkhill.
Afternoon Delight is a community event for LGBTQ seniors and their friends – young and old, and bookings are essential. For more information, visit: www.acon.org.au for details.
Image: McKellen: Playing the Part
---
AFTERNOON DELIGHT 2019:
Sydney:
When: Sunday 14 July, 2.00pm – 5.00pm
Where: Event Cinemas, 505 – 525 George Street, Sydney
RSVP: Russ 02 9206 2017 or RGluyas@acon.org.au
Newcastle:
When: Sunday 28 July, 2.00pm – 5.00pm
Where: Event Cinemas Kotara, Park Avenue, Kotara
RSVP: Jodi 02 4962 7700 or hunter@acon.org.au
Sawtell:
When: Saturday 3 August, 2.00pm – 5.00pm
Where: Majestic Cinema, First Avenue, Sawtell
RSVP: Anabell 0409 680 836 or athoener@acon.org.au
Wagga Wagga:
When: Saturday 10 August, 12.30pm – 3.30pm
Where: Museum of the Riverina, Corner Morrow & Baylis Streets, Wagga Wagga
RSVP: Tyson 0417 915 719 or tarapali@acon.org.au
Lismore:
When: Sunday 17 August, 2.00pm – 5.00pm
Where: Birch Carroll & Coyle, Corner Keen & Zodac Streets, Lismore
RSVP: Sioux 02 6622 1555 or northernrivers@acon.org.au
Katoomba:
When: Sunday 25 August, 2.00pm – 5.00pm
Where: Carrington Hotel, 15 – 47 Katoomba Street, Katoomba
RSVP: Tyson 0417 915 719 or tarapali@acon.org.au