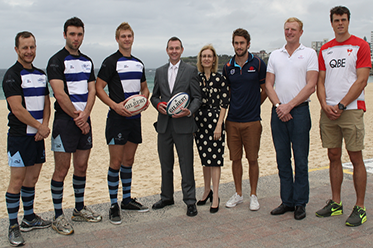 The NSW Government has announced they will support the Bingham Cup to be held in Sydney in August 2014. The announcement made last week at Bondi Beach will see up to 1500 players from 40 teams and 15 countries participate, with more than 10,000 spectators anticipated to flock to Sydney's Eastern Suburbs for this rugby bonanza.
The biennial Gay Rugby World Cup event is named after Mark Bingham, a member of the San Francisco gay rugby union team who died on board United Airlines Flight 93 during the September 11 tragedy.
"The NSW Government is immensely proud to support the Bingham Cup through financial and in-kind contributions to assist with the Local Organising Committee with marketing and other operational costs," said Minister for Sport and Recreation, Gabrielle Upton.
"This will be the first time the event has taken place in the Southern Hemisphere and will be a spectator showcase of rugby with my local team, the Sydney Convicts, defending their 2012 Gay Rugby World Championship against interstate and international rivals."
"I am passionate about encouraging more people of all ages, from all walks of life, to get involved in sport on a regular basis."
Minister for Major Events and Tourism, George Souris, said "Sydney will be only the seventh city to host the Bingham Cup and this reinforces Sydney's status as the major sporting events capital of Australia."
President of Bingham Cup Sydney 2014 and Founder of Sydney Convicts Rugby Club, Andrew Purchas said he's looking forward to welcoming the gay rugby teams and their supporters from around the world.
"We look forward to showcasing our magnificent and beautiful city and State, and demonstrating how warm, welcoming and friendly Australia is to the Lesbian, Gay, Bisexual, Queer, Transgender, Intersex communities," said Mr Purchas.
"We are very appreciative of the NSW Government's support, which is providing invaluable assistance in staging a first class international rugby tournament."
The Bingham Cup runs from 24 – 31 August 2014. For more information, visit: www.binghamcup.com.au for details.
Image: MP Bruce Notley-Smith and Minister for Sport Gabrielle Upton gather at Bondi Beach with players from the Sydney Convicts, Waratahs Michael Hodge and Sydney Swans Mike Pyke.