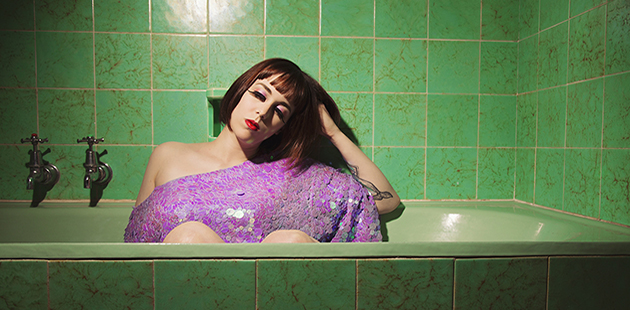 We've all sat through that show. It's, like, totally unique and the songs are so obscure you probably haven't heard them before. You're there because a friend swears they knew about the performer before they were cool. But the show is Just. So. Indie. Featuring obscure instruments, luscious loops and original songs soaked in satire. I mean… do you even indie???
Armed with an omnichord (an instrument courtesy of the 80s), a looping machine and a questionable wine drenched trumpet kazoo, Jessamae St James is determined not to perform 'just' Another Indie Cabaret. Obviously, the challenge is real (to reiterate: trumpet kazoo). And it's fringe right… Indie as hell? The odds are ever in her favour.
Premiering at Melbourne Fringe to a sell out audience, Not Another Indie Cabaret is a musical comedy full of delightful disenchantment from cabaret and burlesque songstress Jessamae St James. Part self-deprecating reflection, part ode to questionable adult-ing skills and part love letter to making excellent life choices whilst drunk on eBay.
Directed by Stephen Gates (1/3 of ARIA Award winning comedy trio Tripod), Not Another Indie Cabaret is an intimate show featuring original songs played on ridiculous instruments which tackles life's big questions… and has at least one other reference to the Hunger Games.
Jessamae St James (Jessie Upton) is a Melbourne based musician, cabaret & burlesque artist. She has headlined The Lorne Festival of Performing Arts, performed cabaret and burlesque at the Australian Burlesque Festival, Melbourne International Comedy Festival, Melbourne Cabaret Festival and in 2010 was invited to perform at the New Year's Eve Burlesque Ball in London as an international guest for Chaz Royal, creator of the London Burlesque Festival.
She was mentored in songwriting by Deborah Conway and following the premiere and sell out season of her original cabaret Tied Up – which focused on all things sexual fetish, Jessamae was nominated for an Eros Shine Adult Industry Award. She is a co-presenter of The Cabaret Room on JOY94.9fm.
"Not Another Indie Cabaret delivers a hit that is engaging, instantly receptive, and certainly entertaining… Jessamae St James has a smooth and enticing command with her performance style, and then knocks it out of the park with such a tremendous voice." – The Plus Ones
Not Another Indie Cabaret
The Henry Austin, 29 Chesser Street, Adelaide
Season continues to 11 March 2017
Bookings: www.adelaidefringe.com.au
For more information, visit: www.jessamaestjames.com for details.
Image: Jessamae St James – photo by Rachel Mia