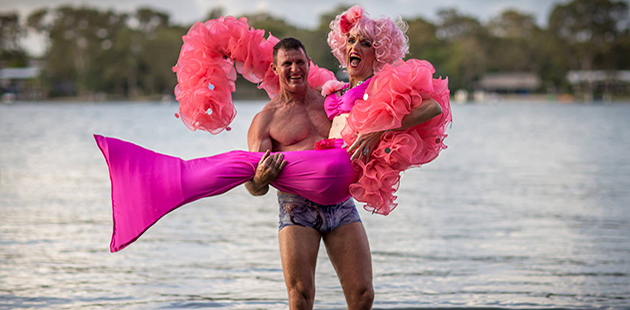 The Sunshine Coast will once again be bringing the Queens back to Queensland and turning up the volume on the Mardi Gras party scene with their 5th Noosa Rainbow River Festival from 28 Feb – 1 March 2020.
"We are so excited to be able to bring a genuine Mardi Gras experience to Noosa so the community that can't travel to Sydney can celebrate together," says Festival organiser Kirsty Patten. "The Festival has something for everyone – from a family-friendly BYO riverside picnic, through to a party with a DJ and live drag performances."
"We're inviting the whole Noosa community to join us on the Noosa River for the famous annual River Parade. Hire a boat, bring your own boat or join the official Rainbow Party boat and party in the sun on a two-hour adventure up and down the Noosa River and canals."
"The theme of this year's River Parade is Rainbow Pirates, so we're asking everyone to be flirty, be daring and definitely be fabulous!"
Partygoers will celebrate with a weekend of festivities, kicking off with welcome cocktails at the Noosa Yacht and Rowing Club on Friday 28 February. Melony Brests will then be dropping her balls at Melony's Drag Queen Bingo hosted by the Lazy River Restaurant just down the road.
Saturday features the Festival Mardi Gras Party Extravaganza – screening the Mardi Gras Parade on the big screen live from 7:30pm – plus showcasing performances by the Powderpuff Girls & Rocky V Liquor and DJ Les will be back in the house.
Wrapping up on Sunday will be the highlight of the weekend, the family-friendly River Parade and picnic, led by the Coast Guard. Hire a boat, bring your own boat or join the official Rainbow River Party Boat – the Catalina. Be entertained by Melony Brests as she puts on a show at the turnaround point at Noosa Woods. Followed by Farewell drinks at Whisky Boy.
"Noosa Council is very pleased to once again support the Noosa River Rainbow Festival. I extend a warm welcome to those traveling from outside the Shire who will be joining us for this event," said Noosa Mayor Tony Wellington. "It's great to see the Rainbow River Festival clock up half a decade of exuberant celebration. May this year's event be another wonderful salute to equality."
The 5th Noosa Rainbow River Festival runs from 28 Feb – 1 March 2020. For more information, visit: www.facebook.com/rainbowriverfestival for details.
Image: Geoff Marshman and Melony Brests get into the spirit of the Noosa Rainbow River Festival (supplied)