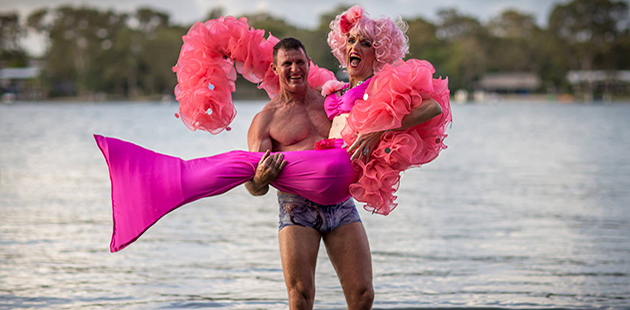 Noosa will again be bringing the Queens back to Queensland and turning up the volume on the post Mardi Gras festival season with the third Noosa Rainbow River Festival on 16 – 18 March 2018.
"This year the Rainbow River Festival has even more reason to celebrate," says Festival organiser Kirsty Patten. "Love has won and for the first time everyone in Australia can equally express their love and commitment to each other. The theme of this year's River Parade is Rainbow Love – so we're asking everyone to be flirty, be daring and definitely be fabulous!"
Partygoers will celebrate with a weekend of festivities, kicking off at the Noosa Yacht & Rowing Club on Friday 16 March with welcome cocktails overlooking the stunning Noosa River before Queen of the Coast, Melony Brests takes you for a wander down Noosa's famous Gympie Terrace for Melony's Bar Hop.
On Saturday 17 March, you are invited to Villa Noosa for the Festival Extravaganza featuring entertainment from local trio Flashback and fabulous drag shows by local drag troupe The Powderpuff Girls.
On Sunday 18 March, everyone is invited to gather for a BYO Riverside picnic near the Big Pelican alongside Noosa River at 10.00am, before joining the main event at midday – The River Parade. Hire a boat, bring your own boat or join the official Rainbow Party Boat on a 2 hour fun-filled adventure up and down the scenic Noosa River and canals.
Later that day, farewell drinks will happen at the stylish Red on Thomas bar on Gympie Terrace, as Noosa extends a warm invitation for you to return next year and do it all again – bigger, better and even more outrageous!
The 2018 Noosa Rainbow River Festival runs 16 – 18 March. For more information, visit: www.rainbowriverfestival.com.au or www.facebook.com/rainbowriverfestival for details.
Image: Geoff Marshman and Melony Brests at the Noosa Rainbow River Festival (supplied)