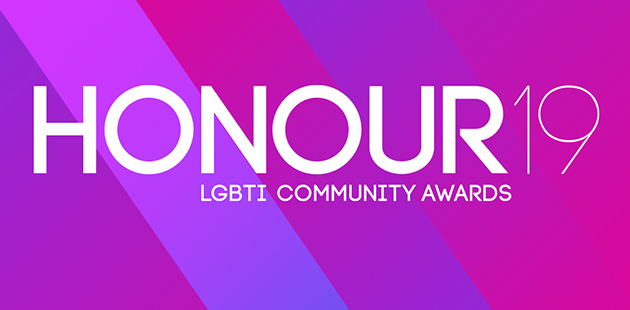 Nominations for Honour Award 2019 are now open and organisers are calling for submissions highlighting individuals and organisations whose service and achievements have made a difference to the lives of LGBTIQ people in NSW and Australia.
First held in 2007, the Honour Awards celebrates outstanding service to, and achievements within, the LGBTIQ community in NSW. Now in its 13th year, the not-for-profit awards is also a gala fundraising event for community initiatives delivered by ACON, NSW's leading HIV prevention, HIV support and LGBTQ health organisation. All funds raised by the Honour Awards goes back into assisting the community through ACON's health programs and services.
Nominations can be submitted in nine categories covering community, health, business, entertainment, visual arts, media, HIV, youth and community service sectors. Nominations can be submitted via the Honour Awards website and close on Wednesday 14 August 2019.
A judging panel of community peers selects four finalists in each category with the winner announced on the night of the awards. Winners receive a range of gifts, and all finalists – as well as their nominators* – receive a free ticket to the gala event, to be held on Wednesday 2 October at the Ivy Ballroom in Sydney.
ACON President Dr Justin Koonin says the Honour Awards are about celebrating all kinds of achievements or contribution from people in LGBTI communities, many of whom and their efforts often go unsung.
"The Honour Awards are all about celebrating how people from all walks of life are helping or inspiring others in our community. Every day, people and organisations from right across our community are helping others in different ways, and the awards are about acknowledging all kinds of community service, whether big or small," said Dr Koonin.
"As a community, it's important that we celebrate those whose names don't make the headlines, as well as our more high-profile achievers. So we're keen to hear about people and organisations that have made a difference whether it be in the lives of only a few people, or whose contributions are more wide-ranging. To have community nominating and celebrating community is what the Honour Awards are all about."
Historian, writer and community activist Dr Shirleene Robinson received the 2018 Media Award for her extensive body of work in the media shining a light on LGBTIQ history, as well as drawing attention to other LGBTIQ issues such as the ongoing fight for LGBTQ marriage equality, the experiences of LGBTIQ personnel in the defence force and the contribution of LGBTIQ volunteers in the AIDS crisis.
"It was really wonderful to win the Honour Award and to be recognised for my media work – having that recognition from my own community was a truly unique and special experience," said Dr Robinson. "The Honour Awards are really important in bringing together people and having that moment of celebration and acknowledgement.
"I would definitely urge everyone to nominate someone from the community for an Honour Award because a lot of people are often unacknowledged for really important work they do," Dr Robinson added. "Having that night where people receive that recognition from the community is really special – it's a really unifying moment for our community and I think it helps to drive important work for our communities forward."
Award finalists and their guests will join a host of media, entertainment, government and community personalities for an extraordinary night of celebration at the gala ceremony and cocktail party. Guests will also be able to bid on fantastic silent auction which includes luxury holidays, jewellery, art, furniture, homewares, and 5-star dining, accommodation and entertainment packages.
Dr Koonin urged people to put forward their community hero and nominate them for the Honour Awards. "The Honour Awards are all about celebrating how all people within our communities of all backgrounds are helping or inspiring others," says Dr Koonin.
"We thank all our event partners for their generous support. Not only are you helping to celebrate our community's unsung heroes, your support is helping to strengthen the health and wellbeing of LGBTQ people in NSW. We look forward to celebrating the amazing and inspirational work of people in our communities."
The Honour Awards 2019 Ceremony and Cocktail Party takes place on Wednesday 2 October. Nominations are now open and close on Wednesday 14 August 2019. For more information, visit: www.honourawards.com.au for details.
Image: Honour Awards 2019 – courtesy of ACON
Note: * only the first person to nominate a finalist gets a free ticket