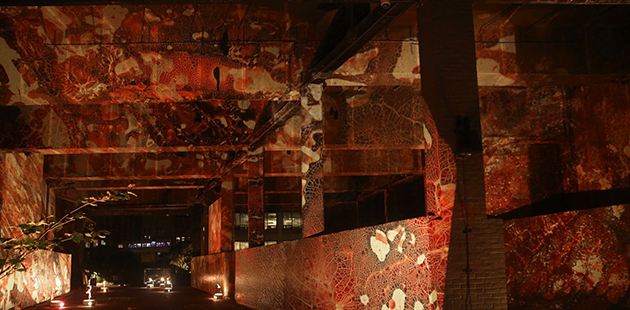 From 6.00pm on Thursday 27 July, art lovers and night seekers are invited to explore our unique city through an interconnected network of galleries, museums, artist-run initiatives and undiscovered spaces at Nite Art 2017.
"This year Nite Art presents the work of more than 60 artists across 25 galleries, museums, artist run initiatives and areas normally out of bounds. We invite you to join us to discover art and the artists that make our city. The night is free and all are welcome," says Nite Art co-founder Deborah Stahle.
Nite Art 2017 will be made up of two precincts – the University of Melbourne and Central City – with a diverse and edgy program in collaboration with the City of Melbourne, the University of Melbourne and Open House Melbourne.
The University of Melbourne Precinct
This year, Nite Art plays host to a number of exciting international imports. At the University of Melbourne, the groundbreaking exhibition BLOOD will be exclusively previewed and presented by the University's new Science Gallery. This space is one of only five in a worldwide network of Science Galleries, with Melbourne's to be completed in 2018 but with a preview space open for Nite Art. BLOOD will feature a range of exciting new provocative works and experiences that explore the scientific, symbolic and strange nature of blood.
In another exclusive for Nite Art, Science Gallery will engage US artist Jordan Eagles to host his blood projection work, Blood Illumination (pictured), in a surprise location not usually open to the public. These projections have been shown internationally at the High Line New York and at festivals across North America.
German artist Fabian Knecht will also visit Melbourne for Nite Art this year. This young Berlin-based artist's interventions touch on the ill-definable border where seemingly everyday things merge into their inverse forms. For Nite Art 2017, Knecht will present a Lecture Performance at the University of Melbourne that speaks to his recent global ISOLATION projects and a new work, SPLIT.
SPLIT has been created in this, his first visit to Australia, at Karlu Karlu – The Devils Marbles Conservation Reserve – which is located 110km south of Tennant Creek in the Northern Territory. Knecht's work has been shown at leading art museums in cities all over the world including Zagreb, Reykjavík, Tokyo and Berlin.
Also part of the University precinct this year, the Grainger Museum will feature commissioned performances by musicians and sound artists, using composer Percy Grainger's recently rebuilt free music machines; Arts West: object-based learning labs featuring a number of artists; and Cyrus Tang, who moved to Melbourne from Hong Kong in 2003, will exhibit recent work in response to historic Chinese ceramic pieces from the University of Melbourne Art Collection.
The Dax Centre will feature an exhibition from their Collection, a wine bar and live music by The October Choir; and the George Paton Gallery will host VCA Honours student Teresa Hsieh's self-made inflatables for her Trust for One series – imparting a trust exercise exploring the act of falling backwards and waiting for the supportive embrace.
Central City Precinct
The Central City precinct comprises Flinders Lane, featuring 10 gallery and outdoor spaces; the Nicholas Building; Arts Centre Melbourne will be screening highlights from The Other Film Festival on loop; and a slew of ARIs and independent arts spaces and institutions.
Flinders Lane will be lit up by more than the neon lights of bars and restaurants with an array of participating venues set to open their doors for Nite Art, including CRAFT, Chapter House Lane and Flinders Lane Gallery.
As the night draws on, Holding Pattern will inscribe the darkness of the street outside Flinders Lane Gallery with light and the human voice. This new work by Hannah Quinlivan, in collaboration with Louise Keast and Alexandra Hobba, will combine a spatial drawing from LED lights with a performance of classical vocals that responds to the qualities of light and space.
Alpha 60 at Chapter House will show Frames of Seeing – a special project for Nite Art curated by Nikki Lam. The captivating exhibition with works by Leela Schäuble and Hermione Merry and Henriette Kassay-Schuster explores stillness, transitions and relational zones that limit and stretch our visual and spiritual experiences.
Schäuble's new work Looking Out is a site-specific video installation created using footage from the Arctic, where Schäuble undertook an artist residency. Sternengucker (stargazer) by Merry and Kassay-Schuster will take place toward the back end of the building's chapel space, featuring live performances inside the confession chamber and incorporating participatory video installation.
Stop for a drink at Chin Chin's Go Go Bar and catch Dane Lovett's temporary installation. Next, travel up the old-school elevator in the Nicholas Building to visit boundary-pushing spaces including: Blindside ARI, where the walls, floor and ceiling will be splashed with colour for a collaborative installation by Mark Booth and Michael Graeve. The installation is a site-specific rendering of paintings, sound works and text works, with paint as well as fabrics and light projection colouring the space.
Visit the Nicholas Projects, where Kai Wasikowski's Moments of love and apathy encourages reflection on the transient desire for immersion in landscape and the effects of global warming on the psyche, spurred by the artist's recent journey to the retreating glaciers in the Southern Alps of New Zealand. Caves Gallery will host A Dodgy Congruity by Julian Aubrey Smith – the recipient of a New Work grant from the Australia Council for the Arts.
Nite Art is part of a global shift happening in other art cities such as Berlin, Hong Kong and Tokyo that is changing the way people view and interact with art. The one-night art event recognises that art and culture is at the centre of our city, and creates a new conversation about Melbourne's cultural identity via collaboration, connectivity and legacy.
Nite Art 2017 takes place from 6.00pm on Thursday 27 July. For more information and full program, visit: www.niteart.com.au for details.
Image: Jordan Eagles, Blood Illumination, 2016. Blood preserved on plexiglass, UV resin, analog overhead projectors, dimensions variable Installation view, High Line, New York, NY – photo by David Meanix