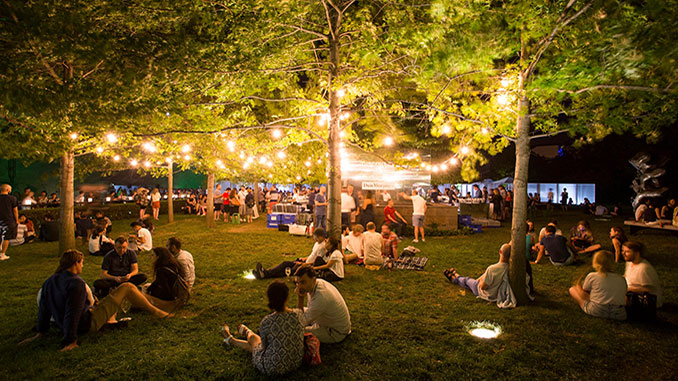 The National Gallery of Victoria's free late-night festival, Triennial EXTRA, returns in 2021 featuring a program stacked with live performances, DJs, dance, food, pop-up bars and after-hours access to the NGV Triennial exhibition, launching Friday 15 January and running nightly until 14 February.
Over 31 nights local artists, musicians and dancers will perform throughout the Gallery responding to artworks in the NGV Triennial exhibition. Meanwhile in NGV's Grollo Equiset Garden the Triennial Summer Stage will feature nightly guest DJ sets, presented in partnership with Melbourne Music Week.
Award-winning Melbourne chef Adam D'Sylva will transform the NGV's Garden Restaurant and new outdoor dining space into a pop-up restaurant exclusively for Triennial EXTRA. Open for lunch and dinner daily, the restaurant presents an exciting and accessible menu of shared plates, inspired by D'Sylva's popular modern Indian eatery Tonka.
"Triennial EXTRA will champion the best of Melbourne's art, music and dining during a time when Melburnians are looking to reconnect with our city's creative talents," said Tony Ellwood AM, Director NGV. "Newly commissioned works by local performers responding to the NGV Triennial will present the exhibition in a new light throughout the late-night season."
Highlights from the Triennial EXTRA program include:
AS SHE FLOATS BY SCOTTY SO: Tuesday – Sunday, 6:30 pm – 7:30 pm –

Exhibiting NGV Triennial artist Scotty So appears across the Ground Level of NGV International silently lip syncing a Chinese Opera inspired by the myth of the Chinese moon goddess Chang'e. Dressed in a holographic Tang dynasty style Hanfu robe with hair and makeup styled after the traditional images of the moon goddess, So performs as an offering to the spirits of the space.

SCARLETT NIGHT BY SCOTTY SO: Tuesday – Sunday, 8:30 pm – 9:00 pm –

Scarlett So Hung So,

 

artist Scotty So's drag persona, takes visitors on a journey through time in Adam Nathaniel Furman and Sibling Architecture's NGV Triennial installation Boudoir Babylon 2020, paying homage to 

Japanese actress and singer Yoshiko Yamaguchi, 60s songstress Rebecca Pan, Greek diva Maria Callas and Australia's queen of pop Kylie Minogue.

OPENING WEEKEND DJS: 15, 16 & 17 Jan, 6.00 pm – 9.00 pm – Setting the scene on the Forecourt and in the Garden, local DJs performing during EXTRA's opening weekend include emerging talent Millú; local nightlife mainstay Andee Frost; disco, funk and electronic specialist Edd Fisher; and multifaceted classical house DJ and curator Merve.
JEFF KOONS ON ICE BY HAMISH MCINTOSH: Monday, Wednesday & Friday,

5:30 pm – 6:30 pm & 7.00 pm – 8.00 pm – 

Emerging choreographer Hamish McIntosh presents a response to 

Jeff Koons's 1998 sculpture titled Pink Panther. Paired with Koons' mirror-polished, stainless steel NGV Triennial sculpture Venus 2016-20, McIntosh reframes the US artist's creative genius through the durational embrace of two young female dancers.
LUCENT BY NAREE VACHANANDA: Monday, Wednesday & Friday, 6:00 pm – 8:00 pm – 

Naree 

Vachananda explores the classic Japanese Noh theatre in a choreographed performance titled Lucent. The presentation draws upon connections between Noh theatre and Cerith Wyn Evans's NGV Triennial light work C=O=D=A 2020 with dancers creating an arc of movement with their bodies to interpret the complex forms of Wyn Evans' white neon sculpture.
SPOTLIGHT ON SHADOWS BY SHINJITA ROY: Monday, Wednesday & Friday, 7:00 pm – 7:30 pm & 8:00 pm – 8:30 pm – Choreographed by Shinjita Roy, Spotlight on Shadows combines Kathak, one of the eight major forms of Indian classical dance, and the Salon et lumière 2020 installation, a digital recreation of the NGV's British and European 19th century art Salon Hang. The presentation features dancers negotiating the space between light and shadows.
Along with the Tonka pop-up restaurant, NGV diners have the opportunity to sample a limited-edition pastry exclusively created for NGV's Tea Room by iconic Melbourne patisserie Lune Croissanterie in celebration of the NGV Triennial and capturing the organic nature of Makiko Ryujin and Michael Gittings' NGV Triennial work Samsara 2020.
All night guests can enjoy unique dining offerings in the Garden, Forecourt café and Tea Room which will host a Yering Station Wine Bar with a food menu designed to pair with the Yering Station wines.
A wide range of drink experiences will be on offer during the festival including Asahi brew and Yering Station wines in the Garden and a pop-up Asahi Bar in the Great Hall.
Students from the Victoria College of the Arts have responded to artworks within the exhibition to create a series of moving performances, with thanks to Research Partner of the Triennial, The University of Melbourne.
---
Triennial EXTRA runs 15 January – 14 February 2021 and NGV Triennial runs until 18 April 2021 at NGV International, St Kilda Road, Melbourne. Free entry, booking required. For more information, visit: www.ngv.vic.gov.au for details.
Image: Visitors enjoy the garden at NGV International, Melbourne – photo courtesy of NGV