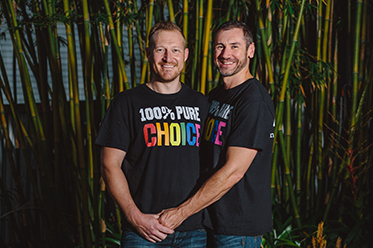 The Marriage Amendment Act that came into effect six months ago has translated into new businesses, many happy couples and a same-sex wedding show that features New Zealand's top fashion designers, award winning photographers and luxury venues.
Tourism New Zealand and The Department of Internal Affairs have confirmed 361 same-sex couples have married in New Zealand following the introduction of same-sex marriage in August 2013. The total figure of 361 includes 97 Australian couples who have flown across the Tasman to tie the knot. Subsequently, Australian same-sex couples now account for around 30% of all same-sex weddings in New Zealand.
The Registrar-General of Births, Deaths and Marriages, Jeff Montgomery said more same-sex weddings are expected to follow in the coming year.
"Our figures show almost one third of couples are Australian," said Mr Montgomery.
"The process is very simple for overseas couples. They fill out a notice of intended marriage form available on our website, send it to New Zealand and then a few weeks later can collect it in person from one of our 48 Registrar of Marriages offices. Then they are good to go with either a registry wedding on the spot or a private ceremony."
"New Zealand offers unparalleled settings where couples can exchange vows in a luxury lodge, on top of a mountain or on a picturesque lakeside. Couples can even marry while sky diving or underground. It is great to see new companies popping up to help make New Zealand weddings even more amazing – we look forward to welcoming Australian couples to New Zealand in 2014."
One of the 97 Australian couples that have crossed the Tasman to wed is Paul McCarthy and Trent Kandler of Newcastle, New South Wales. Trent and Paul were the lucky winners of the 100% Pure Choice competition held by Tourism New Zealand to find the first Australian same-sex couple to marry under the new law. With the 36th Sydney Mardi Gras Festival underway, Paul and Trent will be celebrating their first parade as a married couple.
New businesses such as Queer Eye Weddings in Wellington and Lavish Events in Auckland have opened their doors to cater for the rising demand in same-sex marriage. New Zealand's first Gay Wedding Show in Auckland has also been created to showcase the same-sex wedding industry.
The Australian owner of Queer Eye Weddings Francesca Jago said they identified a gap in the market for a wedding company specialising in same-sex marriages.
"We help take the stress out of organising a destination wedding, which can be incredibly helpful for those travelling from overseas. We have worked with a number of international couples and proud to be the first queer owned and operated wedding company in New Zealand."
Image: Paul McCarthy and Trent Kandler