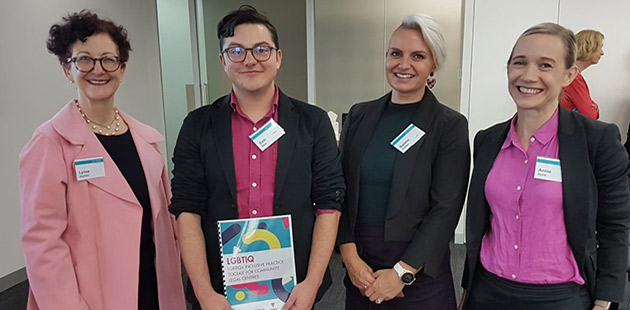 The LGBTIQ Legal Service has released a new Toolkit for Community Legal Centres to assist them to support LGBTIQ+ communities in a respectful and inclusive way.
Funded by a grant from the Victoria Law Foundation, the LGBTIQ+ Inclusive Practice Toolkit for Community Legal Centres covers practical aspects of creating a safe and inclusive legal service for clients, as well as an inclusive and non-discriminatory workplace for LGBTIQ+ staff and other visitors.
"For a trans or gender diverse person experiencing homelessness, an acute mental health condition or complex trauma from parental and societal rejection, stepping into a CLC for the first time will likely be a very stressful experience," says LGBTIQ Outreach Lawyer Sam Elkin.
"Our community will be actively looking for cues that you and your staff are not going to discriminate against them. If you don't actively promote that your service is inclusive, many LGBTIQ+ people will simply assume that it isn't, and won't access your service at all."
Victoria Law Foundation Executive Director Lynne Haultain praised the work of the LGBTIQ Legal Service in supporting an often marginalised and stigmatised community. In just over two years the LGBTIQ Legal Service has become a vital legal service addressing the specific needs of the LGBTIQ community," said Haultain.
"With the release of this Toolkit, their great work will be amplified right across Victoria, providing a blueprint for CLCs to improve their service practices and access to justice for Victorians."
The LGBTIQ Legal Service is a health justice partnership between St Kilda Legal Service and Thorne Harbour Health. They assist LGBTIQ clients across Victoria with legal issues like discrimination, name changes, employment, Centrelink, family violence and more. The service was established following the largest ever grant made by the Victoria Law Foundation.
For more information, visit: www.lgbtiqlegal.org.au for details.
Image: VLF Executive Director Lynne Haultain, LGBTIQ Service Outreach Lawyer Sam Elkin, Federation of Community Legal Centre's Accreditation and Capacity Building Coordinator Natalie Hallam, and St Kilda Legal Service Executive Officer Annie Davis – courtesy of Victorian Law Foundation