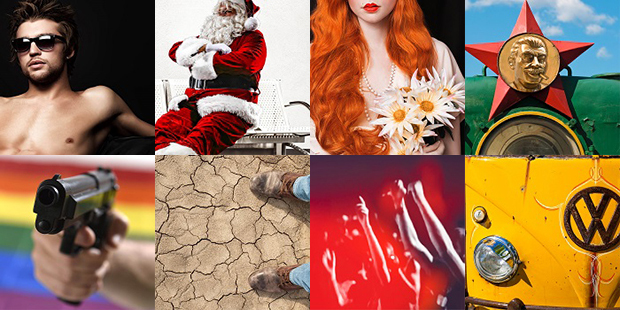 Stories of love, friendship and betrayal, of the bond between mother and son, of manipulation and liberation, the clash of the political and the artistic, anarchy and urban terrorism, the quest for a new life, and the pursuit of dreams – last night, in front of a packed house, Artistic Director Louise Fischer announced New Theatre's 2019 Season.
The eight plays that make up New Theatre's 2019 Season include an LGBTQI favourite, a contemporary Australian drama, a classic English social comedy, three political satires and the stage adaptations of one of America's great 20th century novels and a much-loved feel-good film. There are four Australian premieres, Olivier and Tony Award winners, the work of two Nobel Laureates, and two plays forged in the crucible of Chicago's Steppenwolf Theatre.
My Night With Reg
5 February – 9 March 2019
Summer 1985. For Guy and his circle, the world is about to change forever. The story follows these men over several years, through the ups-and-downs of their lives and relationships, and the chain of deception set off by the promiscuous and dangerously attractive Reg. Directed by Alice Livingstone, New Theatre kicks off 2019 with a revival of Kevin Elyot's Olivier Award-winning comedy as part of the Sydney Gay & Lesbian Mardi Gras – 20 years after its original Sydney production.
Once in Royal David's City
19 March – 13 April 2019
For middle-aged, gay theatre director Will Drummond, nothing is certain any more. His parents are suddenly old, his professional world is changing, everyone around him seems to be losing faith and losing the plot, and it feels as if society has lost its soul. Christmas is often a difficult time for families to navigate and for Will, this year, it will become a time of reckoning and a journey of discovery towards a deeper, if not especially comfortable, awareness of himself. Michael Gow's contemporary Australian drama will be directed by Patrick Howard.
Pygmalion
23 April – 25 May 2019
It is the turn of the 20th century and in a newly-industrialised England, class barriers are breaking down. Directed by Deborah Mulhall, George Bernard Shaw's most popular play will embrace the aesthetic of Steampunk to explore subjects of class division and social mobility in a world where people's worth is judged not by who they are but by the way they speak.
Collaborators
4 June – 6 July 2019
Moscow 1938. Not the best place to have a sense of humour, let alone a yearning for freedom. So when prominent Russian writer, Mikail Bulgakov, living among dissidents and stalked by secret police, is commissioned to pen a biographical drama about Joseph Stalin to celebrate his 60 birthday, he soon discovers there is a high price to pay. Winner of the 2012 Olivier Award for Best New Play, New Theatre presents the Australian Premiere of John Hodge's original comedy.
Angry Fags
10 – 27 July 2019
If gays aren't respected enough to win equal justice and rights, fear will achieve what good intentions and politics cannot. A deliciously subversive dystopian revenge tragedy – with more than a nod to Tarentino – that pushes all the buttons. Premiering at Steppenwolf Theatre in 2013, Mark G Nagle directs the Australian premiere of Angry Fags by a bold new voice in American playwriting, Topher Payne.
The Grapes of Wrath
6 August – 7 September 2019
Renowned first as a novel, winning John Steinbeck the Pulitzer Prize, and then as an Academy Award-winning motion picture, the story of the Joad family is one of the great modern tragedies. Yet, despite the anguish and suffering it depicts, the play in the end is a soaring and deeply moving affirmation of goodness and strength in the face of adversity and the indomitability of the human spirit. Louise Fischer directs Frank Galati's Tony Award-winning stage adaptation of Steinbeck's great novel.
The Angry Brigade
1 October – 2 November 2019
In 1970, a crop of extremist left-wing revolutionary groups sprang up across Europe. Loosely connected by manifestos that preached the overthrow of the capitalistic ruling class, they conducted bombings, kidnappings, robberies, and assassinations. Britain's version was The Angry Brigade – a small and somewhat ineffectual cell of urban guerillas who emerged in a society blighted by government cuts, high unemployment, austerity measures and deregulation. Blending fact and fiction, James Graham's comedy-thriller will be directed by Alex Bryant Smith in his New Theatre directorial debut.
Little Miss Sunshine
12 November – 14 December 2019
Based on the Academy Award-winning film about nine year old Olive Hoover, her dysfunctional family, and her dream of becoming a pageant queen. Directed by Deborah Jones,this delightful musical comedy by the Tony Award-winning team of James Lapine (Into the Woods, Sunday in the Park with George) and William Finn (Falsettos, 25th Annual Putnam County Spelling Bee), is filled with warmth and humour will charm audiences of all ages.
"This season took a little longer than usual to finalise but the resulting program is worth the wait," says Artistic Director, Louise Fischer. "It reflects the world we live and work in – compelling, subversive, provocative, universal and quirky. We look forward to seeing you at New Theatre in 2019 and sharing great theatre with you."
The comedy is sharp and dark, the human drama profound. Political and satirical, epic and entertaining, 2019 at New Theatre will be a wild and wonderful ride. For more information, visit: www.newtheatre.org.au for details.
Image: New Theatre 2019 Season  (supplied)