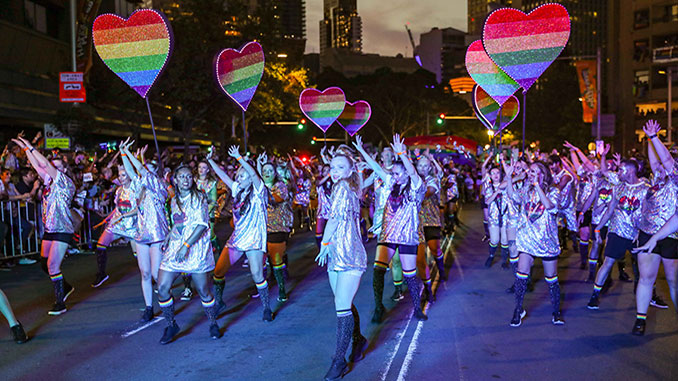 The Oxford Street cultural and creative precinct will be transformed under ground-breaking City of Sydney plans to revitalise the area.
New draft planning rules, endorsed unanimously by Council this week, will unlock redevelopment opportunities, encourage investment, stimulate business and activate streets and laneways – all while incentivising the creation of more cultural and entertainment space.
It's estimated the proposed controls could create more than 42,500sqm of employment floor space and 11,000sqm of new creative and cultural floor space along Oxford Street from Greens Road, Paddington to Whitlam Square in Surry Hills.
Lord Mayor Clover Moore said the innovative planning incentives will activate the area's day and night economy, while protecting the area's significant heritage and character. "We love Oxford Street. It's one of our greatest and best-known streets but it has faced significant troubles in the recent past," said the Lord Mayor.
"The construction of massive shopping centres at either end of the strip and online shopping has hurt its retailers, the lock-outs have hurt its bars and clubs and the clearway has created fast flowing through-traffic that has made it a less pleasant place to be."
"We're breathing new life into the fabulous strip with innovative controls to support growth and diversity, protect heritage and character and promote both day and night-time economies – all while ensuring the development cultural space, such as new basement bars and space for creatives."
"The community has made it clear that we need to preserve and celebrate Oxford Street's history as a sacred walking track for the Gadigal and the heart of Sydney's LGBTIQ community, while safeguarding its future, particularly as we ready to welcome World Pride 2023."
"Renewing our planning rules will help reinforce Oxford Street's creative and cultural possibilities. We're committed to building on its reputation as an iconic gay and lesbian precinct and a centre of buzzing activity both day and night, with space for thriving businesses, creatives and culture," said the Lord Mayor.
Mardi Gras CEO, Albert Kruger, has welcomed the proposed planning changes. "Oxford Street holds special significance for the LGBTIQ communities of Sydney," he said.
"As well as being the spiritual home of the annual Sydney Gay and Lesbian Mardi Gras Parade, Oxford Street has been a sanctuary for our community to come together for many decades."
"The last 12 months had a devastating impact on our once thriving and colourful Oxford Street. We welcome the City of Sydney's new planning incentives to help revitalise this important precinct for our communities and greater Sydney," said Mr Kruger.
The City of Sydney's planning proposal seeks changes to the Sydney Local Environmental Plan and Sydney Development Control Plan to create the dedicated Oxford Street cultural and creative precinct. It will support development sympathetic to the heritage character to:
retain existing entertainment, creative and cultural floor space within the precinct
encourage new creative and cultural floor space by allowing extra floor space and height
encourage entertainment floor space at basement level
protect the structural integrity of heritage items and provide appropriate upper level setbacks
allow additional uses at the National Art School to support its continued educational and cultural role, and to diversify the range of supporting commercial and entertainment activities
provide floor space ratio increase from 0.9:1 to 1:1 at the National Art School to support its redevelopment
promote uses at street level to attract pedestrian traffic balanced with the need to service sites
require large sites to activate laneways with small retail or food and drink, tenancies, opportunities for art and improved pedestrian amenity
promote food and drink premises in ground level tenancies fronting open space
expand the Oxford Street heritage conservation area to include 276-278 Crown Street.
The City of Sydney will also explore and consult on alternative height options for development facing Taylor Square to help revitalise the heart of the cultural and creative precinct.
The proposed changes will encourage office and retail premises, entertainment spaces, healthcare services, information and education facilities, hotel accommodation, community facilities and light industry along Oxford Street.
Extensive consultation over three months in late 2020 saw over 1800 people attend online workshops, take part in self-guided walking tours, respond to an online survey and write 'love letters' to Oxford Street. Results showed 93 per cent support a creative and cultural precinct, while 88 per cent supported reviews of planning approaches.
Among those consulted was James Winter, director and co-founder of Brand X, the Darlinghurst-based group that re-purposes empty properties for performances, recording and visual artists. "Not so long ago, Darlinghurst was the hotbed for contemporary arts and culture in our city," he said.
"It's exciting to see that the City of Sydney recognises the importance of preserving these spaces for the future and enable East Sydney to realise its off-Broadway potential."
"As we slowly emerge from Covid, it's amazing to see the community return to its roots and embrace the creative DNA that already exists here in Darlinghurst for the benefit of residents, businesses and artists who call this area home," said Mr Winter.
---
For more information about transforming Oxford Street's cultural and creative precinct, visit: www.cityofsydney.nsw.gov.au for details.
Image: Oxford Street, Mardi Gras 2020 – courtesy of City of Sydney