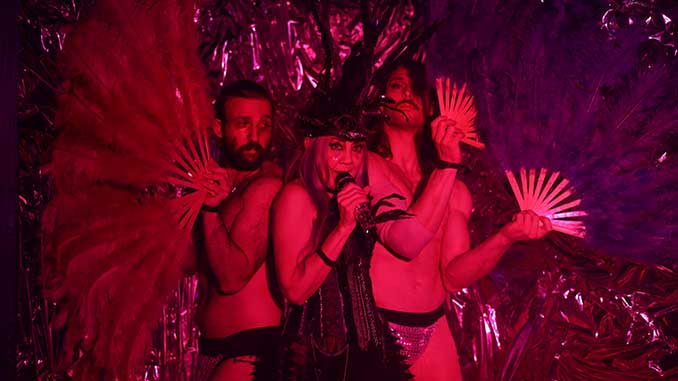 Broad Encounters have announced its brand new immersive theatrical epic, LOVE LUST LOST, will take up residency from 8 September 2023 at one of Melbourne's last remaining original picture theatres and dance halls, The Austral in Collingwood.
Following on from the success of underground gothic hit A MIDNIGHT VISIT, which attracted more than 67,000 people throughout Australia and ran for an impressive 16 weeks in Melbourne, LOVE LUST LOST melds music, spoken word, dance, circus, soundscapes and scent to dazzling effect.
Conceived by a creative and production team of over 80 people, this intoxicating new 360-degree sensory experience will be performed in 38 intricately designed spaces across three floors spanning more than 1500sq metres, making it the most expansive immersive theatre show to ever play in Melbourne.
Founder of Broad Encounters and co-writer of LOVE LUST LOST, Kirsten Siddle, shared her passion for unconventional theatrical experiences and why The Austral is the perfect home for this new epic:
"We strive to make work that is inclusive and pushes the boundaries of what we understand to be theatre, without compromising on the spectacle of a grand proscenium. I want to draw people into a world where they feel like they can shape their own experience in collaboration with, not separate from, the artists.
"To have found such a rich and romantic space in The Austral is a real blessing, as it will become a character in its own right when we start to build the show there in August. Having started its life as a beloved picture house, dance hall and theatre in 1921, it feels very special to be able to give the treasured building a farewell that honours its roots before it takes on a new life with future developers."
Audiences are invited aboard the E.V. Nautilus before descending into an underwater theatrical playground where they are free to explore its depths at their own pace and can even become active participants in the story if they wish. Complete with secret rooms, hidden bars and puzzles to solve, no two experiences will be the same.
The adults-only adventure contains a multi-layered plot following nine characters and the lengths they will go to in pursuit of love and lust, with thematic nods to Jules Verne's Twenty Thousand Leagues Under the Sea, Hans Christian Andersen's The Little Mermaid and Joseph Conrad's Heart of Darkness.
LOVE LUST LOST invites you to discover a seductive and decadent underworld of mystery, sacrifice and sweet surrender in a performance experience like no other. Embark upon a strange craft helmed by the mysterious and unpredictable Captain Anderson.
Descend into a shimmering subterranean world where madness roils, dreams unfurl and aching secrets bloom through the darkness. Will you uncover the mysteries of the deep?
All performance sessions last 75 – 90 minutes. You are encouraged to move through the venue at your own pace, following the residents of the underworld or charting your own course.
Left or right, up or down, let your curiosity and instinct be your guide. Imbibe in some Dutch courage before and after your journey at the bespoke bar offering choice libations and salty bites.
Created and co-written by Kirsten Siddle with co-writer and dramaturg Helen Cassidy, LOVE LUST LOST is brought to life by Scott Maidment (Stage Director), Nigel Poulton (Fight Director), Josh McIntosh (Set Design), James Browne (Set Design), Ebony Webb (Set Design), Michael Theiler and Peret von Sturmer (Sound Design), Jason Glenwright (Lighting Design), Mik La Vage (Musical Arrangements) and Olga Dumova (Original Costume Design).
---
Broad Encounters' LOVE LUST LOST plays at The Austral, 202 Johnston St. Collingwood from 8 September 2023. Tickets go on sale to the general public on Monday 3 July, with pre-sale tickets available to waitlist members from Wednesday 28 June. For more information, visit: www.lovelustlost.com for details.
Image: LOVE LUST LOST – photo by Peter Wallis