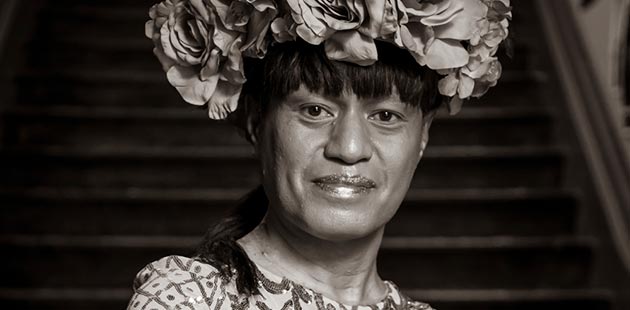 An inspiring exhibition exploring the coming out narratives of LGBTQ+ people in Victoria, Chapel Off Chapel is proud to host Photographer Sanjeev Singh, showcasing his first solo exhibition, Outings, this October.
Featuring 22 large black and white portraits, the exhibition depicts a range of subjects from the famous to the everyday, recalling the locations in Victoria that were significant in their coming out journey.
"I've asked the subjects to recollect a time and a space that had a significant influence or impact on their journey," says Photographer Sanjeev Singh. "One gentleman's place was at Brighton Beach where he was arrested, one passed a note in class, another was standing outside a Target store in country Colac, and one was dancing at the landmark, dance space, Poof Doof in Windsor."
"One ten year old told his mother that he is a girl as they chatted on the staircase of their home. Another portrait features the Mayor of Stonnington, Cr Steve Stefanopoulos, who remembers telling his best friend he was gay while going for a walk along Princes Park."
"My exhibition captures their return to these spaces, recreating the memory to reclaim the space and own it through a portrait photo session," continues Sanjeev. "I strongly believe this platform to capture the stories of those before us will help others still coming to terms with their gender identity and sexual orientation in a profound way."
"This arts grant from the City of Stonnington has helped me to realise my first exhibition and to help people engage – not only will the photography 'come out of the walls' printed on large sheets of metal, I will also be taking this exhibition to the public in the form of street posters pasted throughout Melbourne."
Sanjeev says a crucial component of the exhibition is to create opportunities for LGBTIQ+ people to tell their stories in hope of building a greater understanding and acceptance amongst the wider community. "Later, I have dreams of taking Outings on tour to regional towns and to collect more extraordinary people to share their coming out stories around the globe."
Sanjeev Singh is a Melbourne-based photographer specialising in portraits, events and lifestyle. Since embarking in his photographic career five years ago, Sanjeev has worked extensively throughout Melbourne and regularly photographs for Chapel Off Chapel. His other clientele include Victorian College of the Arts, Arts Centre Melbourne, the Melbourne Cabaret Festival and STREAT.
Sanjeev's works have also been published locally and internationally in The Age, Tea Time Magazine and the Air Asia in-flight magazine. Outings marks Sanjeev's first solo exhibition and he hopes to take the project on a global scale over the next five years. This experimental work is proudly supported by the City of Stonnington and opens in conjunction with Coming Out Day on 11 October.
---
Outings – a photo essay of LGBTQ+ people and their coming out stories
Chapel off Chapel, 12 Little Chapel Street, Prahran
Exhibition: 11 – 20 October 2019
Free entry
For more information, visit: www.photosbyjeevs.com or www.chapeloffchapel.com.au for details.
Image: Sanjeev Singh, Amao Leota Lu – a fa'afafine performer speaker and activist (detail)