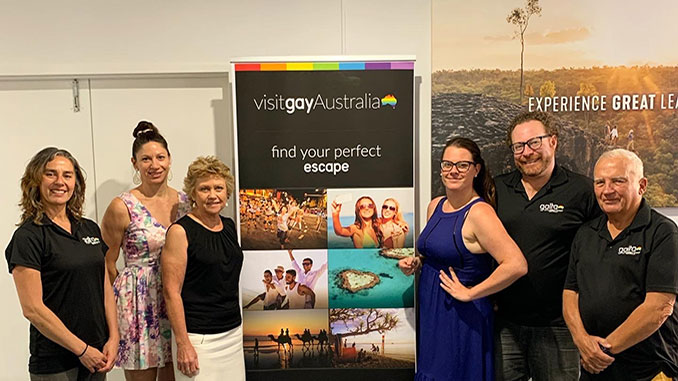 Gay and Lesbian Tourism Australia (GALTA), Australia's lead LGBTIQ+ tourism industry association, has announced two new appointments and three reappointments to its Board to help drive the organisation's forward strategic plans in the lead-up to Sydney WorldPride 2023.
Gerry Bourke, General Manager across various Quest Apartment Hotels properties, and Jai Leighton, Director of Operations with JW Marriot Gold Coast Resort & Spa, have both been appointed to the GALTA Board for two year terms.
GALTA President, Louise Terry, has been reappointed to the position, while Board Directors Rodney Stringer and Dennis Basham have also been reappointed for another two year term.
The new Board appointments bring strong commercial expertise and senior management experience across the accommodation, hospitality and sales sectors and will be central to the non-profit's drive to support its national members out of the COVID-impacted landscape of the past two years and towards tourism rebound opportunities.
The national tourism association, which promotes holiday experiences in Australia to LGBTIQ+ travellers worldwide, is operated by a voluntary Board and team of state-based representatives and has a growing membership base around Australia.
GALTA President, Louise Terry, said the new additions to the Board would strengthen the organisation's capabilities to deliver greater benefits to its members by driving more commercial opportunities as travel re-opens through 2022 and Sydney prepares to host WorldPride in early 2023.
"As we emerge from COVID and confidence returns, tourism is a sector that stands to benefit, not only from state borders re-opening to more domestic travel, but also as the inbound market reboots, with some international flights already starting to get back in the air," she said.
"GALTA members can be found in each state of Australia, from cities to regional locations, and they are ready to welcome LGBTIQ+ travellers back to experience their destinations, accommodation, tours, attractions and hospitality venues."
"To support tourism businesses in welcoming LGBTIQ+ travellers, GALTA will be running a series of industry workshops around Australia in 2022 to provide research updates, marketing directions, distribution strategies and first-hand traveller insights."
"We also know that pride festivals are a key attractor for LGBTIQ+ travellers and there is a great line-up of city and regional celebrations poised for 2022. Pair this with the global anticipation surrounding Sydney WorldPride in early 2023 and it's clear that LGBTIQ+ travel will play an important role in Australia's tourism recovery," said Terry.
The GALTA AGM 2021 was held in person and virtually from the offices of Tourism Tropical North Queensland in Cairns. Following the AGM, a number of Board Directors had the opportunity to meet with the TTNQ team, attend the Cairns Pride Festival Closing Party and also experience some of the region's Aboriginal cultural tourism product that are represented by GALTA member, Welcome to Country.
The GALTA Board for 2021/2022 is: President: Louise Terry | Vice President: Ben Woodward | Acting Company Secretary: Sean Hodges-Colavitto | Treasurer / National Representative Liaison: Rod Stringer | Director / Social Media: Dennis Basham | Director: Gerry Bourke | Director: Jai Leighton
---
For more information about GALTA, visit the Visit Gay Australia website: www.visitgayaustralia.com.au for details.
Image: GALTA Board Directors with some of the team from Tourism Tropical North Queensland (supplied)