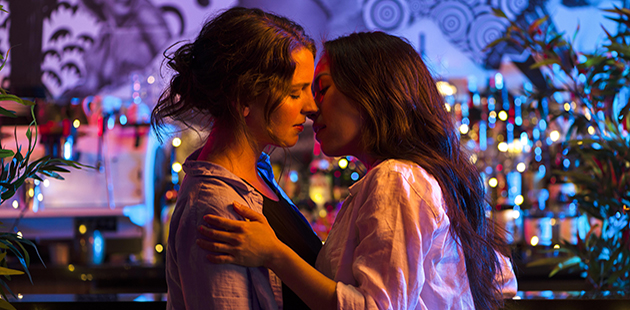 La Boite's Roundhouse Theatre is set to transform into the bustling streets of Thailand later this month for the world premiere of new Australian musical love-story Neon Tiger.
Set to the beat of Bangkok's back alleys and nightclubs, Neon Tiger is the love-child of three of Australia's most exciting talents: playwright Julia-Rose Lewis (Samson, This Feral Life), musical comedian Gillian Cosgriff (Tonightly, Vivid White), and director Kat Henry (Wind and The Willows, Constellations) in a colourful collaboration with La Boite Theatre Company and Brisbane Powerhouse.
The play's premise was borne from a 10-day creative research trip where Cosgriff, Lewis and Henry explored Thailand and together discovered an adventure story worth telling. "When it came to writing about our experiences, it seemed only fitting to tell a story about falling in love under bright lights in a city you know nothing about." said Lewis.
Reminiscent of Tony Award winning musical's The Last Five Years and Once, Neon Tiger features eight original pop songs penned by Green Room Award-winning comedian Cosgriff.
Directed by Henry, the musical two-hander follows the journey of Andy (played by Lisa Hanley, Winners and Losers, Seven Network), an aspiring songwriter on sabbatical in Thailand who is trying to outrun her broken heart.
While hosting karaoke nights in Bangkok's party-district, Andy meets Thai-American Arisa (Single Asian Female's Courtney Stewart), who's on a personal quest to connect with her mother's culture. When the two meet, sparks fly, igniting an intense love affair.
Director Kat Henry said Neon Tiger was guaranteed to melt audiences' hearts. "Everyone can relate to a romance like Andy's and Arisa's – that unexpected, electric, messy holiday romance," said Henry. "At its core, Neon Tiger is about two 20-somethings navigating not only a foreign country, but their own lives and place within the world. It's a gorgeous show; beautiful and tender, smart and sassy, with a collection of really sing-able songs."
La Boite Artistic Director Todd MacDonald said La Boite was proud to unleash Neon Tiger on Brisbane audiences – La Boite's fourth and final world premiere this year. "Neon Tiger is the last play and perfect finisher to La Boite's 2018 season," said MacDonald.
"Julia-Rose has written a fast-moving, funny and insightful script that surges with unbridled tenderness and charm. Coupled with Gillian's soulful and relatable songs and fiercely led by Kat, it's a laugh-out-loud love story that we know audiences will absolutely adore."
MacDonald added Neon Tiger continued La Boite's commitment to unearthing diverse Australian stories. "At La Boite we look to develop new Australian talent and voices, and I couldn't be more excited to share this new story with Brisbane audiences."
Julia-Rose Lewis is a writer currently based in remote Central Australia, who has has worked with companies including Belvoir, Queensland Theatre Company, The Australian Theatre For Young People (atyp), La Boite, Brisbane Powerhouse, and HotHouse.
Her first full length play, Samson, made it's mainstage debut in a Belvoir and La Boite Co-production in 2015 and was published by Playlab in 2016. Julia was also the recipient of the 2014 Philip Parsons award and fellowship for this play.
Julia's work for young people includes Between The Clouds – which premiered at HotHouse Theatre in November 2015; and Riley Valentine and the Occupation of Fort Svalbard – which premiered at Queensland Theatre in 2016. Julia's short film, This Feral Life was released online in 2014.
Julia has been a Playwright in residence at La Boite Theatre Company, and is currently under commission from Belvoir St Theatre and holds a MFA from NIDA.
Director: Kat Henry Featuring: Courtney Stewart, Lisa Hanley Set & Costume Designer: Sarah Winter Lighting Designer: Andrew Meadows Sound Designer: Guy Webster Assistant Creative / Sound Designer: Anna Whitaker Writer: Julia-Rose Lewis Composer: Gillian Cosgriff
---
Neon Tiger
Roundhouse Theatre, 6 Musk Avenue, Kelvin Grove
Season: 31 October – 17 November 2018 (previews: 27 – 29 October)
Information and Bookings: www.laboite.com.au
Image: Courtney Stewart and Lisa Hanley feature in Neon Tiger – photo by Dylan Evans