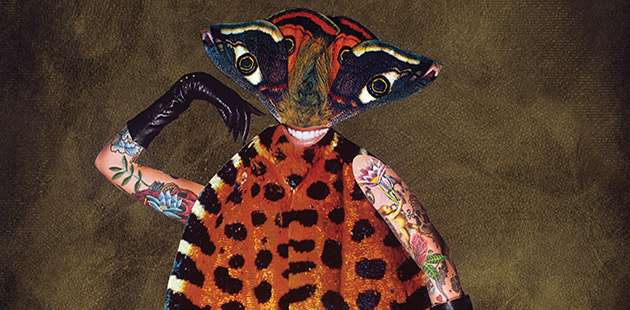 The National Art School (NAS) is excited to be the Mardi Gras Hub for Queer Art and Visual Culture this year with Queer Contemporary – a series of exhibitions, performances and gatherings, topped off with the art-inspired Moonlite Pop-Up Bar.
At the centre of this program is an original exhibition, Misfit: Collage and queer practice: 15 February – 15 March 2020 in the National Art School's Rayner Hoff Project Space. Curated by Scott Elliot, Misfit: Collage and queer practice explores how artists use the creative and cultural power of collage to manipulate and deconstruct the dominant social and political narratives that so often exclude the queer community.
Artists in the exhibition include Tony Albert, Gary Carsley, Brian Fuata, Deborah Kelly, Del Lumanata, Sarah Rodigari, Tyza Stewart, Paul Yore and Guanyu Xu from Beijing. Their work in performance, video, photography, textile, painting and paper for Misfit: Collage and queer practice explores how the radically reassembled can illuminate unseen truths, highlight ambiguities and offer positions of resistance.
Presented in the Library Stairwell Gallery, the i hate my dad group show by National Art School students explores contemporary masculinity through a queer lens. The broad context we exist in is patriarchal – its power structure affects us all in different ways, in some ways we might not even be aware of. This group of artists critiques and challenges patriarchal undercurrents, asking the questions: Is masculinity inherent? Is masculinity male? Is masculinity toxic? And most principally – can we change it?
Produced by Dino Dimitriadis and running in conjunction with the exhibitions is an exciting public program of special events featuring a literary salon, slam poetry, meditation and mindfulness workshops, and immersive, interactive storytelling.
Artist and NAS alumnus Todd Fuller will lead a tour telling the true tale of Andrew George Scott, aka Captain Moonlite – a notorious bushranger and inmate of the convict-built Darlinghurst Gaol, and his lover James Nesbitt.
The tour winds through the prison's old sandstone buildings, now home to NAS, and includes a screening of Fuller's animation of the story. Moonlite was hanged at the gaol in 1880, 140 years ago, for the murder of a police constable during a hold-up in Wagga Wagga.
Another Queer Contemporary program highlight is the creation of acclaimed artist Gary Carsley's large-scale artwork Outside – a collaboration with Sydney's LGBTQI+ community. Carsley will invite participants to create their own personal collages using digital and handmade processes. They will then add their works to a 3 x 7 metre landscape image installed on the gallery walls to create a collective portrait of queer identity.
"We are thrilled to be an integral part of Mardi Gras again in 2020, and to welcome everyone to celebrate Sydney's creative and diverse queer community through art and engagement," said NAS Head of Advancement Terese Casu.
---
Queer Contemporary 
National Art School, Corner Forbes and Burton Streets, Darlinghurst
Exhibition: 15 February – 15 March 2020
Free and ticketed events
For more information, visit: www.nas.edu.au for details.
Image: Deborah Kelly, Venus as a Boy (detail), digital print on silk, 100 x 200 cm – courtesy and © the artist