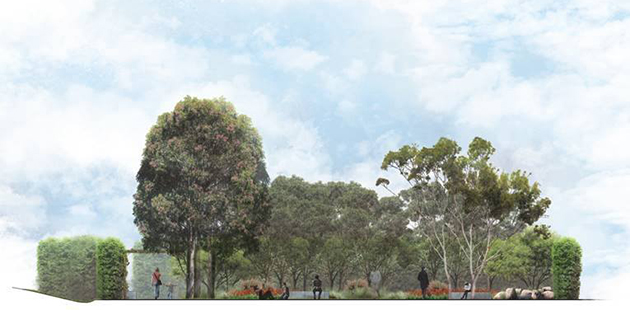 A living tribute to those lost to AIDS and in support of those living with HIV, the National Arboretum in Canberra has revealed the AIDS Garden of Reflection.
Opened by Chief Minister Andrew Barr, following a five-year fundraising drive by the Canberra community, the AIDS Garden of Reflection is a permanent memorial to those who have died of AIDS, and will provide a private place of peace and reflection within the Arboretum's Gallery of Gardens.
AIDS Action Council CEO Philippa Moss paid tribute to Richard 'Rachel' Allen who had worked tirelessly to lead the community engagement so the National Capital could join Sydney and Melbourne in having a permanent AIDS memorial.
"Richard is a long-term HIV community member and Canberra icon and has led the charge to make this memorial a reality," said Ms Moss. "Finally, Canberrans will have their own space to remember those lost to AIDS and increase awareness about AIDS prevention.
Designed as a place of contemplation, the garden provides an opportunity for families, friends and supporters to honour those lost to HIV and AIDS, heal, reflect and develop hope. It has been designed to provide a sense of calm and comfort, a special haven featuring an arbour, shallow rock pond, benches and rock seating for visitors to enjoy the views and surrounding landscape.
This site and other AIDS memorials around Australia have the power to positively influence public awareness, provide a place of sanctuary for those mourning lost loved ones and reduce the stigma which still remains for those who lose people in their life to HIV in Australia.
"We have great confidence that the AIDS Garden of Reflection will provide a place for not only remembrance and reflection, and also inspiration and community building," said Ms Moss. "With the support of the Canberra community, this garden has the power to become a focal point and a call to action."
For more information, visit: www.nationalarboretum.act.gov.au for details.
Image: Artist Impression of the AIDS Garden of Reflection – courtesy of the National Arboretum Canberra