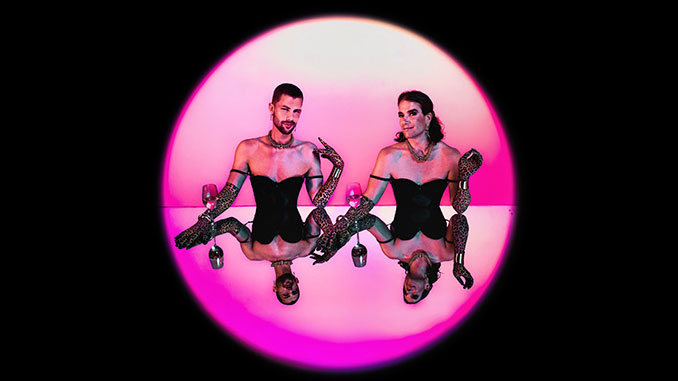 National Art School (NAS) has announced NAS NEO's forthcoming Thursday nights to coincide with the 2022 Sydney Gay and Lesbian Mardi Gras. The new after-hours program of events titled NAS NEO aims to bring together critical and progressive arts practice across inclusive and diverse platforms, through artist driven cultural events in collaboration with the next generation of change makers, innovators and creators.
Following last weeks opening of the exhibition, Queer Contemporary: I want a future that lives up to my past, curated by NAS lecturer and alumni Liz Bradshaw, in the Rayner Hoff Project Space, featuring artists including Karla Dickens, Bridie Lunney, Justine Youssef, Nadia Odlum, Christine Dean, Luke Thurgate, Steven Cavanagh, Kurt Banks and Liz Bradshaw, this Thursday 3 March, will see BREAK OUT presenting LTBTQI performance art and moving images, an action-packed queering of spaces, histories, images and sounds.
From evocative gay romance animations to bondage tableau, spoken word experiences to endurance performance, luscious reflections on queer icons to ever-expanding drag, the NAS campus breaks out. Performers include Gareth Ernst, Annaliese Constable, Lou Harris, Solar Gold Dancers and Susann Taylor. Projections include Todd Fuller, Ladonna Rama (Tokyo), Claudia Nicholson and Aaron McGarry.
Music curated by NAS NEO includes live performances by Jamaica Moana, Ayebatonye and bringing the disco to the decks will be The Dollar Bin Darlings. Pop up bars serving Nomad Beer, Bird in Hand Wines and a selection of premium non-alcoholic drink options with food to be announced.
The Queer Contemporary: I want a future that lives up to my past exhibition runs until 12 March and also offers an active public program including the Queer lineages panel discussion. Christine Dean, Justine Youssef and Kurt Banks will reveal an artist who has had an impact on their practice or sense of identity, delving into the ways we find and invent lineages and histories for queer art practice.
On Thursday 3 and 10 March (6.00-8.00pm) as part of NAS NEO, the National Art School will host a Short Course: Queer Contemporary Life Drawing Workshop. The course is an evening of Life Drawing inspired by the 2022 Queer Contemporary exhibition at the National Art School. Set within the Rayner Hoff Project Space, the workshop is part immersive tour and part traditional life drawing class.
Exhibiting artist, alumnus and NAS lecturer Luke Thurgate demonstrates and guides you to draw the human figure in relation to works on display in the Queer Contemporary exhibition. The workshop is designed for participants of all levels and is a LGBTQI+ friendly event, $60 full fee with tickets from the NAS website.
"We are delighted once again to be part of the Sydney Gay and Lesbian Mardi Gras, with a thoughtful, vibrant visual art program as well as the fantastic live public events," said NAS Director and CEO Steven Alderton.
"You can come to NAS, engage with the artworks, dance to the music, eat, drink, hear artists speaking and ask them questions. NAS is all about participating in art rather than just looking at it."
The NAS NEO weekly event series, every Thursday night until 14 July will contribute to reignite Sydney's cultural landscape with vibrant, contemporary, critical and innovative programming including; visual arts, music, performance, installation and experiential work, moving image and short films, talks, art-making workshops, artist markets and rotating exhibitions, food and bars.
NAS NEO will focus on showcasing new art from emerging artists, celebrated alumni as well as established artists. NAS NEO will continue to curate weekly events in collaboration with the established program for 2022 which also include; Rivus: 23rd Biennale of Sydney (12 March – 13 June), Vivid Sydney (27 May – 18 June), Reconciliation Week (27 May – 3 June) and NAIDOC Week (3 – 10 July).
NAS NEO is a National Art School project funded by the NSW Government's Culture Up Late program. Artistic Directors Steven Alderton and Rae Begley, Consultant Artistic Director Sam Watson-Wood.
---
NAS NEO
National Art School, Darlinghurst Road, Darlinghurst
Event: Every Thursday night (6.00 – 10.00pm)
Free entry with registration
For more information, visit: www.nas.edu.au for details.
Image: The Dollar Bin Darlings (supplied)