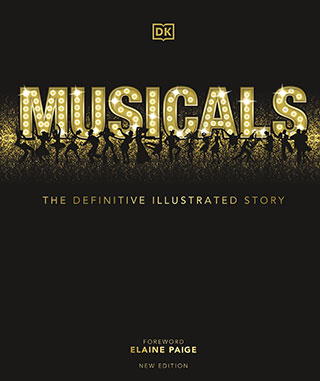 Showcasing the complete history of the musical on stage and screen, from its origins in ancient Greece to early twentieth century dance halls and vaudeville to the golden age of cinema productions to the record-breaking Broadway musicals of today, Musicals: The Definitive Illustrated Story is a visual celebration, bringing the world's best-loved productions to life.
Musicals: The Definitive Illustrated Story takes you on the ultimate behind-the-scenes tour of the best-loved musicals, such as Show Boat, Chicago, Les Misérables, The Lion King, The Phantom of the Opera, The Sound of Music, Hamilton and many more.
Featuring more than 140 notable stage and film productions and the stories of the people who created them – discover the history, plots, and stars of musical theatre and movie musicals.
Go backstage to find out more about choreography and set and costume design, and delve into profiles of successful creators such as Andrew Lloyd Webber in this illustrated celebration.
Throughout, clear infographics, rich black-and-white and color photography, and a clever, informative design make this comprehensive overview of musical theatre and movie musicals a true showstopper.
Packed with historical insights, memorabilia, behind-the-scenes gossip, and artifacts, immerse yourself in the world of musicals, and fall in love all over again with the songs, stories, characters, and legendary stars from every era.
"There is something here for everyone who loves musical theatre. This highly visual, photographic factual book contains a timeline of original artwork of posters, stage sets, stills and biographies – a treasure trove of information beautifully presented." – Elaine Paige
---
Musicals: The Definitive Illustrated Story is published by Penguin Books Australia (Dorling Kindersley Ltd) and available from all leading book sellers including Dymocks.
Image: Musicals: The Definitive Illustrated Story – courtesy of Dorling Kindersley Ltd