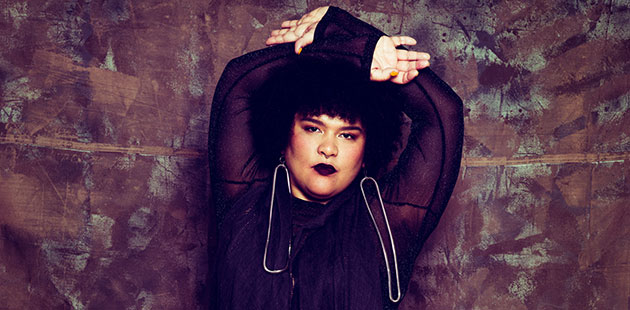 The mixed race, gender-fluid and multi-talented Candy Bowers is launching a new exciting podcast, Multi-Hypho with support from Arts Centre Melbourne, Creative Victoria and bobb Creative.
The actor, comedian, writer and director has created this podcast to embrace multiplicity both on the mic and behind the scenes, celebrating diverse multi-hyphenates from across the creative industries.
The idea came to Bowers last year when she was in Los Angeles for a comedy screenwriting mentorship with Peter Saji, Black-ish writer and co-creator of Mixed-ish. During her LA stint, she participated in a podcast workshop.
"It dawned on me that there weren't so many creative media offerings regarding being mixed- raced and queer and gender-fluid," said Bowers. So when the pandemic derailed her Hollywood plans, Bowers turned back to her podcast idea, feeling that "connection and community had become more important than ever."
"I live on the intersection of many identities and there are plenty of brilliant folks out here with me. We are folks who have to tick the 'other' box all too often and rarely have space to state our multiple identities on application forms," Bowers explains. "I wanted to create a dedicated platform to discuss, elevate and celebrate our multiplicity."
Bowers is known to many Australian audiences for her sharp, vibrant and comic work including Sista She, Who's That Chik?, Australian Booty and One The Bear. The NIDA graduate has also ruled the big top as ringmaster for Circus Oz, and recently joined MAV (Multicultural Arts Victoria) as Programming Manager.
"In my solo show Who's That Chik? which premiered at Arts Centre Melbourne in 2009, I spoke about not being let in through the front door, I had to smash in through the skylight. When you make that sort of mess, well, you just gotta keep blowing things up and keep holding space."
"This is why I work everywhere: screen, stage, literature, music and community development… I have to; and podcasting seems like a perfect new endeavour," said Bowers.
Joining Bowers on the Multi-Hypho project is an exciting team including Christian Biko of bobb Creative, Colombian mixed media artist Karen Bravo, and Senuri Chandrani, an actor and theatre-maker of Sri Lankan Sinhalese heritage.
"The Australian industry hasn't shifted enough to hold the incredible talent right on our doorstep," says Bowers. "I'm hoping the podcast will be a thrilling reflection for folks like me, and a brilliant education for those who've never considered what it might be like to live inside a multi-hypho."
---
The first episode of Multi-Hypho will premiere on Tuesday 3 November; with subsequent episodes dropping each week till the end of the year. Arts Centre Melbourne has co-commissioned the first nine episodes of the series. For more information, visit: www.artscentremelbourne.com.au for details.
Image: Candy Bowers – courtesy of Arts Centre Melbourne