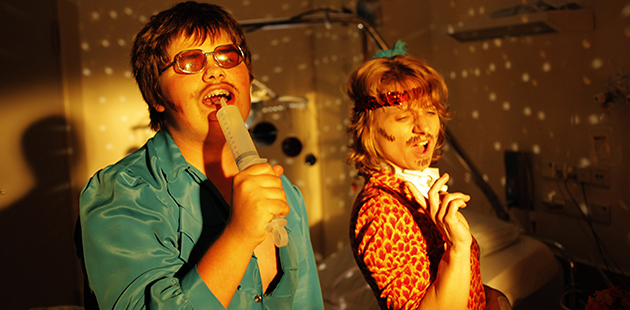 Merkins, Baptists, lesbian hookers, a timid chambermaid & a choirboy in drama, comedy, horror, documentary and more… the Melbourne Queer Film Festival (MQFF) has revealed its full 2015 program – set to delight, excite, shock and surprise as the Festival celebrates its 25th year in style.
Along with 45 feature films, 12 documentaries and 17 shorts packages, the Festival will host a string of events, special presentations and the most cutting edge queer cinema has to offer from around the globe in a vibrant festival atmosphere.
The Festival will open with The Way He Looks. Selected as Brazil's official entry to the Academy Awards Foreign Language Film category, the film follows the story of blind teenager Leo, who seeks further independence while dealing with new emotions, discovery and rising adolescent angst in this outstanding and original take on the popular coming out narrative. Opening Night festival-­goers are invited to kick on after with drinks, mingling and dancing at the after-party downstairs at ACMI.
After 10 days, the Festival will close with German feel-good comedy I Feel Like Disco, which tells the bittersweet coming-of-age-tale of a family learning to accept each other. After the screening, disco dance the night away at the after-party at Optic Bar + Kitchen.
This year's centrepiece films will be the Melbourne Premiere of the multi-award winning The Circle, seamlessly blending documentary and dramatizations, the film chronicles a remarkable chapter in GLBT history with the rise and fall Swiss gay magazine The Circle, while also at the film's heart telling a moving love story spanning decades; and directorial debut Anita's Last Cha-Cha, set in a small town in Bulacan, the Philippines, the film tells a story of modernity and sexual freedom in a town with old-world religious views.
Four Australian features form part of this year's program including standouts All About E, which is sure to become an Aussie queer classic – full of adventure, romance, laugh, and bad guys with accents, things start to spiral out of control for hot Sydney DJ, E, when she stumbles upon a bag full of cash with her gay BFF Matt; and Drown, a hard-hitting drama about sexuality and identity based on the acclaimed play and set against the iconic backdrop of Sydney's beaches.
The Dream Children, a troubled television personality and his easy going partner, in this Melbourne-­made feature, journey together in a search to become parents, and add some stability to their lives but they soon discover that the world of adoption is not as straightforward as they expected; and Skin Deep, a film about hope and the strength of female friendship that will stay with you long after you have left the cinema. The Festival is excited to announce that all four filmmakers are Festival guests and are available for interview plus all four films cast and crew will be in attendance for a Q&A after the screenings.
Delivering the laughs are a range of comedies that will have the audiences roaring including the Australian Premiere of The Foxy Merkins, the subversive buddy comedy which follows the lives of two lesbian hookers as they make their  way through a world of bargain-hunting housewives and double-dealing conservative women.
Queen of Amsterdam, equal parts hilarious and touching, this Kinky Boots meets Mission: Impossible comedy caper is not to be missed telling the tale of a much-loved gay club that is threatened with bankruptcy and a close-knit, ragtag group of regulars go on a mission to save their club.
Eat With Me, taking a light-hearted look at some serious subjects, this film is perfect to bring your friends to for a great night out! Emma is a Chinese mother struggling to come to terms with her son Elliot's sexuality in this heart-warming look at two people who use food as a medium through which they can communicate and find common ground.
Creating quite a stir wherever it screens The Chambermaid Lynn, follows the story of Lynn, a timid chambermaid who lives a dull life and finds the lives of the guests in the hotel in which she works fascinating. Touted as Germany's version of 50 Shades of Grey, The Chambermaid Lynn will make its Australian Premiere at MQFF.
Special presentations at this year's Festival include the 25th Anniversary Screening of Night Out, which will be followed by a Q&A with panellists, including Writer/Director/Producer Lawrence Johnston; a session on lesbians in horror films which will accompany a screening of Lyle, a lesbian horror film with palpable sense of unease and creeping paranoia that builds to the final shocking scene starring the exceptionally talented Gaby Hoffmann (Transparent, Girls).
An industry session entitled From Script to Screen to help develop the skills of aspiring film professionals; Gaming in Colour a documentary about the queer gaming community, gaymer culture and events, and the rise of LGBTQ representation in contemporary games presented with a panel discussion; It's a Girl Thing, a night out for the girls with films and a party space dedicated to women; the return of Speed Dating; and a dual co-presentation with Melbourne Cinematheque with the screenings of Anger Rising (1947-1972) and Poison (1991) – which will be proceeded by Un chant d'amour.
The Documentaries program features a strong line up including Turkish film Alex and Ali, telling the touching tale of Alex and Ali who first met in Iran in 1967 and kept their relationship secret and their bond alive via phone calls, letter and emails then in 2010 they decide to meet up again for the first time in 35 years; Derby Crazy Love, featuring an awesome girl punk soundtrack that will get you fired up, this film will have you itching to buy some skates and hit the track; Peter De Rome: Grandfather of Gay Porn, about Hollywood cinematographer Peter de Rome who lived an unapologetically open gay life and poured his talent and passion for men, especially men of colour, into explicit erotic films during the 1950's through to the 1970's.
Other festival highlights include Four Moons, the entertaining and emotional film that has been winning the hearts and minds of both audiences and critics at festivals worldwide revealing stories of Mexican males as they grapple with their sexualities; and Drunktown's Finest, the stories of three young people intersect in this powerfully honest exploration of contemporary life on Native American Land that bravely explores the clash of culture and identity.
Blackbird, beautifully shot with an all-star cast including Academy Award winner Mo'Nique (Precious) Isaiah Washington and Julian Walker, follows the journey of a devout choirboy living in a conservative Mississippi town who while facing challenges must finally confront his sexuality, Baptist religion, Southern values and African American upbringing.
This is just selection of the titles and events from this year's MQFF program. For more information and to view the full festival program, visit www.mqff.com.au for details. The Festival takes place 19 – 30 March 2015.
Image: I Feel Like Disco