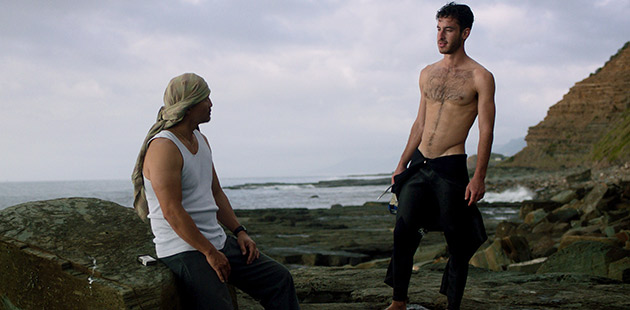 Despite the 2020 Melbourne Queer Film Festival (MQFF) being suspended due to COVID-19, MQFF has celebrated the brightest queer voices and filmmaking talent in Australia by announcing their Jury Awards.
---
The City of Melbourne Award – Best Australian Short:
Black Lips – directed by Adrian Chiarella
Hong leads a lonely life in Sydney's suburbs, selling black market abalone at inflated prices to make a living. In an effort to avoid connecting with people or confronting his own emotions, Hong's life has become one of solitary ritual. But when his supplier doesn't show up, Hong sets out on a journey to a remote, coastal town where he meets Cain, a young gay man who's stuck in a troubled relationship that he can't leave. Together, they discover the true limits and possibilities of their lives.
"Well shot with beautiful cinematography. A compelling story with gripping performances by a diverse cast." – The Jury.
The Best Australian Short award includes a $5000 prize thanks to the City of Melbourne, and DaVinci Resolve Studio Software from BlackMagic Design. Black Lips also qualifies as MQFF's official selection for the Iris Prize – the largest prize for LGBTI+ short film in the world, screening in October. Black Lips is available to watch on SBS.
---
Film Victoria Award – Best Director:
Laura Nagy – director of Hook Up
Laura Nagy's previous work includes Bodies (Vancouver International Film Festival); We Will – a viral short film in support of marriage equality; and is currently developing Masc – a webseries exploring masculinity from the perspective of female and non-binary filmmakers, supported by Screen Australia. Hook Up was made with the assistance from MQFF after winning the festival's inaugural Pitch, Pleez! competition last year.
"Beautifully directed and superbly acted, Hook Up is an excellent study in sexual awakening , the nuance of friendship and toxic masculinity." – The Jury
The Best Director award includes a $2500 prize, thanks to Film Victoria.
---
ME Bank Award – Emerging Filmmaker:
Tommy Hart – director of Kids on Fire
A graduate in Film and Television from Victorian College of the Arts, Tommy Hart's work includes Women in the Senate, Great Again and Allergies. Hart was the winner of the Emerging Filmmaker Award at the 2018 Melbourne Queer Film Festival for Allergies.
"We loved these eight perfectly crafted minutes that drove this bracing small town story of fear and connection." – The Jury
The Emerging Director award includes a $2500 prize – thanks to ME Bank
---
The Pride Foundation Award – Best Australian Feature:
Unsound – directed by Ian Watson
On returning home from the UK, Noah – a disillusioned musician finds creative inspiration and love via a community led dance club which is run by the headstrong Finn – a hearing-impaired trans-man on the cusp of transitioning.
"Pride Foundation Australia is very proud to be supporting Australian Queer film and chose Unsound as a worthy recipient of our award as it dealt with topical issues of transitioning, queer Auslan culture and community, and, queer relationships." – Pride Foundation Australia
The Best Australian Feature award includes a $1000 prize – thanks to Pride Foundation Australia
---
Shaun Miller Lawyers Award – Best Documentary Short
Belonging – directed by Matt Scholten
Examining Tasmania's journey from a place of exclusion to inclusion, from prejudice to acceptance, from hatred to embrace, Belonging features archival footage and interviews with Sam Watson and Rodney Croome's families and friends.
"Belonging is a stand out film on so many levels: the telling of the parallel stories of two generations of LGBTIQ activists in Tasmania, the mentorship relationship between veteran campaigner Rodney Croome and the young Sam Watson, the history of LGBTIQ rights in Tasmania, and, above all, as a great shout-out for equality, inclusion and belonging." – Shaun Miller Lawyers
The Best Australian Feature award includes a $1000 prize – thanks to Shaun Miller Lawyers
---
The MQFF Jury members included: Councillor Rohan Leppert (City of Melbourne); Kate Fitzpatrick (Programmer at MIFF); and Scott Dare (Head of Purpose & Customer Advocate at ME). Best Australian Feature was judged by Pride Foundation Australia. Best Documentary Short was judged by Shaun Miller Lawyers. For more information, visit: www.mqff.com.au for details.
Image: Jason Chong and Adam Marks feature in Black Lips (film still)