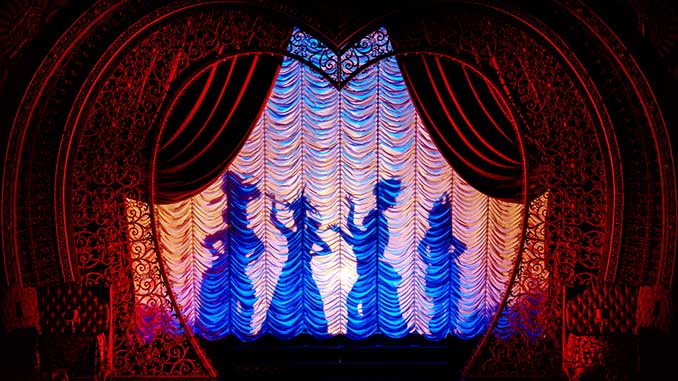 Moulin Rouge! The Musical has returned to Melbourne after its sold out 2021–22 season. I didn't see it and heard trusted comments that ranged from "unmissable" to "soulless" and "everything that is wrong with commercial music theatre". But when the confetti cannons explode onto an audience, who can't wait to clap along to another Hey Sista, Go Sista, its return is critic-proof.
The first 20 or so minutes of Moulin Rouge! The Musical are everything glorious about music theatre that has a budget. With an outrageous magnificence that embraces camp with an undertone of love and equity, it looks like a queer dream that would turn the most conservative incel.
There's nothing to distract in the design that is impossible to stop staring at. And the ensemble's work is so damn perfect and full of life and excitement that I dare anyone to fault the opening.
There are more similar numbers throughout the night, but by then the overwhelming onslaught of glitter, amazing fishnet stockings and colour is expected.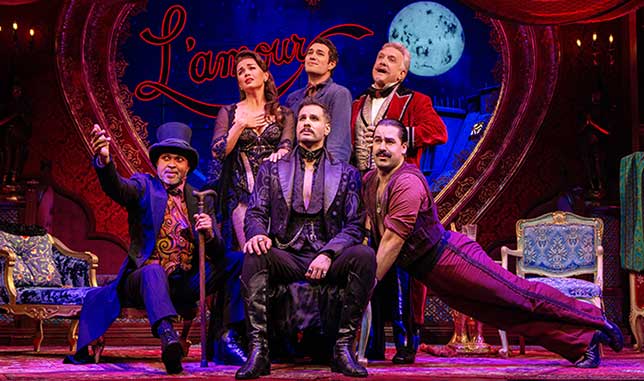 The well-known juke-box score of pop music has a sing-along-ability that finds a way in for even those of us who worship at the shrine of David Byrne or know that A-Ha's video for Take on Me is one of the great love stories.
But we're not in a 1984 synth-pop video. We're in Montmartre in Paris at the Moulin Rouge around 1899. It's a safe place for outcasts and anyone not welcome in proper society. Its on-stage dream-like beauty means little because no one is buying tickets to the shows and the club's owner is ready to sell anything to keep it running.
The rich Duke of Monroth likes looking at the pretty poor people in their sexy undies and especially likes the club's most-valuable asset: performer Satine – ignore that she's at least 20 years younger than her childhood friends. She's been on the streets and knows that shagging a slimy duke is worth it to keep her friends safe.
If only she hadn't mistaken the poor American visitor Christian for the wealthy duke and fallen instantly in love with him. Christian is hanging out with Satine's friend Toulouse-Lautrec, and his fictional mates, and is a musician who has written some of the greatest songs of the next 120 or so years. And if only Satine didn't have a bad cough.
There are few, if any, surprises.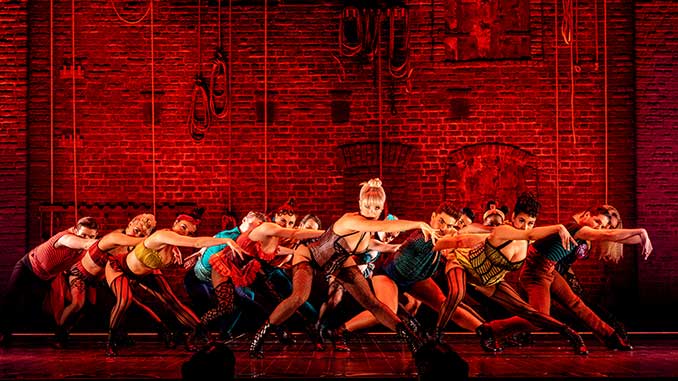 For all of the show's overwhelming beauty, the story is not filled with the love, truth and freedom that it professes to be built on. Pretty is awesome but pretty collapses without a strong core of story. Why can't the story and characters be as complex and detailed as the hand-sewn can-can dresses?
The mash-up score of 70ish chart-busting songs range from Elvis to The Rolling Stones to Rick Astley and each is an undeniable masterpiece of pop or popular music.
But original pop songs are written to tell a personal story. The likes of Sia singing Chandelier, Katie Perry singing Firework, Lorde singing Royals, Britney Spears singing Toxic, Annie Lennox singing Sweet Dreams and Elton John singing Your Song are played at weddings and funerals because their emotion is authentic and connected with the artists who sung them. Out of context, they are fun to recognise but feel like faded copies of the original emotion.
For all its moments of utter magnificence, it's frustrating to not feel the soaring emotion of Moulin Rouge! The Musical. However, it's high kicking at the Regent Theatre until the end of the year and will continue to be loved and successful. And there's a sing-along show that could be unmissable.
---
Moulin Rouge! The Musical
Regent Theatre, 191 Collins Street, Melbourne
Performance: Thursday 24 August 2023
Season booking to 31 December 2023
Bookings: www.ticketek.com.au
For more information, visit: www.moulinrougemusical.com
Images: The Lady Ms – photo by Michelle Grace Hunder | Bert La Bonté as Toulouse- Lautrec, Alinta Chidzey as Satine, James Bryers as The Duke, Des Flanagan as Christian, Simon Burke AO as Harold Zidler, Ryan Gonzalez as Santiago – photo by Chris Parker | Samantha Dodemaide as Nini and Cast – photo by Michelle Grace Hunder
Review: Anne-Marie Peard