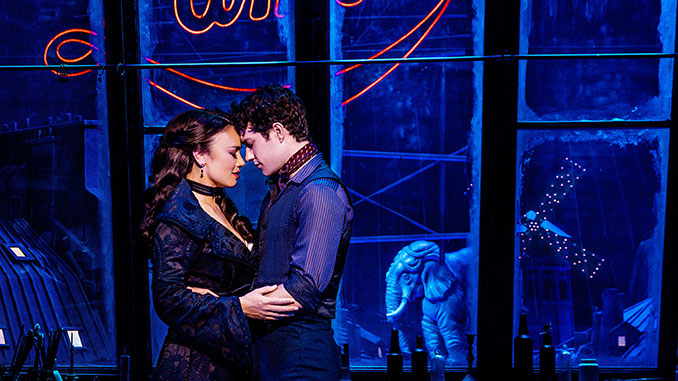 Moulin Rouge! The Musical will have its Australian premiere performance on Friday 12 November as Baz Luhrmann's revolutionary film comes to life onstage remixed in a new musical mash-up extravaganza.
Melbourne's Regent Theatre has been transformed into the famed French nightclub and is set to transport audiences to 19th century Paris, complete with the iconic red windmill and towering blue elephant.
"This past year has been an incredible journey, full of ups and downs and to be able to finally say that we are opening the show actually makes me quite emotional," said Alinta Chidzey, who stars as the sparkling diamond, Satine.
"I'm just in awe of this ridiculously talented cast and what we have created together. The energy we all feel on stage as we rehearse this spectacular is like nothing I've experienced before."
"The show is a true feast for the senses and exactly what Melbourne needs right now to lift our lockdown spirits! I cannot wait to share it with audiences and celebrate together the joy that is live entertainment," said Alinta.
Moulin Rouge! The Musical was originally due to open on 13 August 2021 but was delayed due to lockdown restrictions. In a twist of COVID fate, the West End and Australian productions will now premiere on the same day. Last month the Broadway production won a remarkable 10 Tony Awards including Best Musical in a coup for Australian producers Global Creatures.
Newcomer Des Flanagan stars opposite Alinta Chidzey as bohemian dreamer Christian, Simon Burke AO plays legendary club impresario Harold Zidler and Andrew Cook will play The Duke. Montmartre's resident artistes include Tim Omaji as Toulouse-Lautrec and Ryan Gonzalez as Santiago.
The club's famed entertainers known as the 'Lady M's' will be played by Samantha Dodemaide as Nini, Ruva Ngwenya as La Chocolat, Christopher J Scalzo as Babydoll, and Olivia Vásquez as Arabia.
Directed by Alex Timbers, Moulin Rouge! The Musical is a theatrical celebration of Truth, Beauty, Freedom and – above all – Love. With a book by John Logan, music supervision, orchestrations and arrangements by Justin Levine, and choreography by Sonya Tayeh, Moulin Rouge! is more than a musical; it is a state of mind.
Bringing Moulin Rouge! The Musical to the stage was a decade-long journey spanning 3 continents, encompassing 75 songs credited to 165 songwriters, administered by 31 publishers, representing over 160 years of music.
Following an out-of-town Boston run in 2018, the 2019 Broadway debut of Moulin Rouge! The Musical broke box office records for the Al Hirschfeld theatre, scored a Grammy nomination for the Original Cast Recording, a Drama League Award for Outstanding Production of a Musical and ten Outer Critics Award Honours.
Moulin Rouge! The Musical is produced by Carmen Pavlovic and Gerry Ryan OAM for Global Creatures and Bill Damaschke. The Executive Producer of the Australian production is Angela Dalton, Global Creatures.
Global Creatures acknowledges the generous support of the Victorian Government through Visit Victoria and the Australian Government through the RISE Fund.
---
Tickets for Moulin Rouge! The Musical are currently on sale through to 7 April 2022 exclusively through Ticketmaster. All tickets purchased through Ticketmaster are covered by a flexible Exchange Policy. For more information, visit: www.moulinrougemusical.com for details.
Image: Alinta Chidzey as Satine and Des Flanagan as Christian in Moulin Rouge! The Musical –  photo by Michelle Grace Hunder
Note: All patrons must be vaccinated or have a proof of exemption and will be required to wear a mask at all times unless consuming food/drinks.