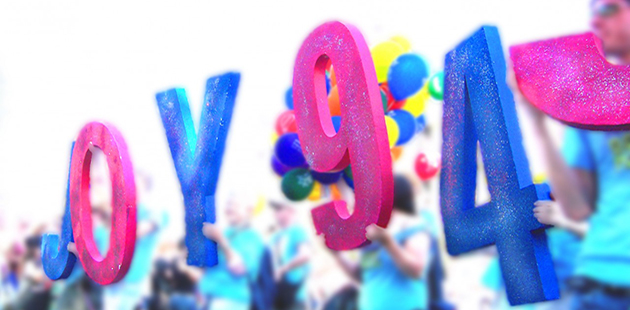 JOY 94.9 has dramatically increased our monthly listenership in the past eight months, with more listeners tuning in for longer during the week, the latest McNair survey has found.
Australia's only LGBTI radio station attracted an extra 31,000 monthly listeners since the last survey in October, raising the monthly audience reach to 372,000. The majority of new listeners were attracted to the weekday breakfast programs, with JOY's weekday breakfast line-up finding a rise in listeners in two consecutive surveys.
"Our breakfast programs have been working very hard on their content, making sure they're keeping listeners uplifted and entertained, as well as updated on local events," said Program Director, James Findlay. "Our diverse range of personalities are evidently connecting with listeners, which is fantastic to see."
The cementing and finessing of 'Melbourne's most uplifting music mix' and broadening the diversity in weeknight programming has also seen a dramatic increase in time spent listening to JOY Monday to Friday. Time spent listening to JOY by the average listener went up across the board (weekdays and weekends).
The news comes as eleven new programs join the brand new programming grid which started on 1 August. Some of the highlights include a rainbow family program, a bisexual program and more indigenous programming.
Two much-loved JOY favourites return to the airwaves this grid. Gillian Bartlett best known for her time on the G-Spot and the Airbags brings The Silverfox to Saturday afternoons, taking a look at the best baby-boomer aspects. Former popular breakfast host from Andy and Adrian, Adrian Perillo-Phillips joins the team on Family Matters.
"The latest listenership survey results are fantastic and absolutely in line with our strategic objectives to produce world quality radio that connects the LGBTI communities and beyond. Our volunteer broadcasters are producing more than 120 hours of original content every single week and we could not be more proud of the ongoing success," said JOY CEO, Tennille Moisel.
For more information, visit: www.joy.org.au for details.