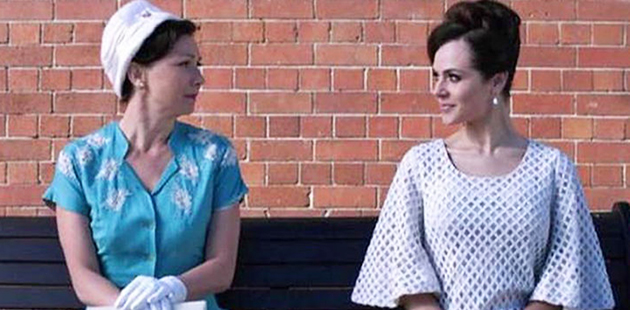 In October this year, ABC ME premiered First Day, a live action drama about a character called Hannah (Evie Mcdonald), who was transitioning into high school and also coming out as transgender. Importantly, a transgender actor played the tween protagonist. Hannah was delighted to finally be treated as a girl in public but had to deal with using a different toilet to her classmates. She also faced a bully who had moved to her new school.
The rights of transgender children and teens is currently a hot button issue. In September, a report revealed that almost of half of young trans people try to end their lives. And in late November, the Family Court ruled that transgender teenagers seeking hormone therapy no longer have to apply to a judge to do so.
But while overseas TV shows such as Orange is the New Black (2013-) and Transparent (2014-) have shed light on transgender issues, First Day is an anomaly within Australian screen culture. In 2016, Screen Australia released a study on diversity in Australian TV drama broadcast between 2011 and 2015. It reported that only two of the 88 LGBTQI characters in TV drama during this timespan were transgender.
One of the earliest transgender characters on Australian TV appeared in the raunchy 70s TV drama Number 96 in 1973. In the show, the character of "blonde bombshell" Robyn Ross turned out to be transgender – and was played by the real transgender showgirl Carlotta.
In some ways Number 96 offered a progressive portrayal: Robyn was attractive, capable, and taken seriously as a romantic partner. But she was part of a storyline intended to be scandalous. When Robyn's on-screen boyfriend proposed to her, she delivered the "shock" revelation she was "not a girl".
After Number 96, Carlotta went on to become a much loved Australian transgender celebrity. However, it took decades for representations of those who are transgender or genderqueer (having a non-binary gender identity) to gain traction in Australian TV.
Reality TV has played a role in this shift. Since the start of this century, it has become hugely popular. And in many countries, including Australia, international reality TV formats such as Big Brother, Idol, Got Talent, The X Factor, and Next Top Model included transgender contestants.
Some found ongoing success through these shows. For instance, the genderqueer performer Courtney Act (also known as Shane Jenek), who came 13th in Australian Idol in 2003, went on to further reality TV fame in the US and UK.
While the notion of the beautiful trans woman "tricking" her male suitors unfortunately endured in the UK's dating competition show There's Something about Miriam (2004), other reality formats generally represented transgender contestants in a sympathetic and respectful manner.
More recently, reality TV has moved away from depicting trans people as contestants to more in-depth explorations of trans lives in docusoaps – which combine the realism of documentary with the drama of soap opera.
For example, the UK's heart-warming My Transsexual Summer (2011) gathered seven transgender people together in a house every weekend for five weeks, where they offered one another support. The US docusoaps I am Cait (2015-2016) and I am Jazz (2015–) each follow the life of a transgender celebrity, observing the joys and difficulties of their gender transition.
Australia has not (yet) produced anything comparable to these shows. Nevertheless, there are a few recent Australian fictional representations of transgender people that explore the realities and nuances of their lives, such as the biopic Carlotta (2014). This made-for-TV movie illustrated struggles and triumphs in the life of Carlotta (from Number 96), who grew up as a boy in Balmain and went on to become the star of the famous Kings Cross cabaret troupe Les Girls.
Foxtel's Australian miniseries Secret City (2016) also featured a significant transgender character. This political thriller, a TV drama set in Canberra and based on novels by journalist Chris Uhlmann, included the transgender character Kim Gordon. An Australian government spy, Gordon is the ex-husband of the show's protagonist, political journalist Harriet Dunkley.
Still, the makers of Carlotta and Secret City each encountered criticism for not casting a transgender actor to play a transgender person. In Carlotta, the lead transgender role was given to actor Jessica Marais – who starred in Packed to the Rafters (2008-2013). In Secret City, Damon Herriman played Kim Gordon.
First Day – a short film special produced as part of ABC ME's programming to celebrate International Day of the Girl – differs from these, not least because a transgender actor played its central character. Here's hoping it is the start of something more, and that 2018 brings more diversity to Australian screens.
---
More Australian trans stories on our TV screens, please
Joanna Ruth McIntyre, Lecturer in Screen and Media Studies, University of the Sunshine Coast
This article was originally published on The Conversation. Read the original article.
Image: Anita Hegh and Jessica Marais in Carlotta – courtesy of ABC