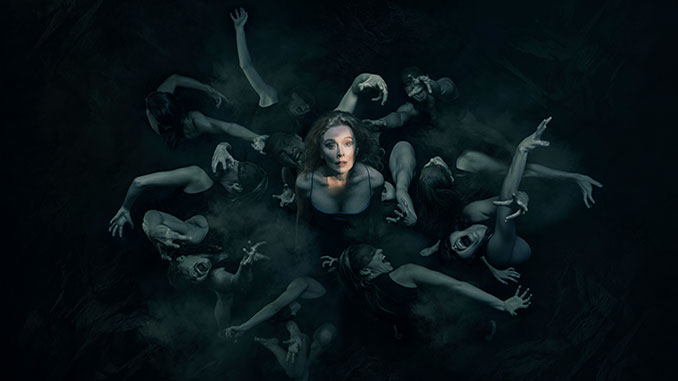 From 24 November, the premiere of Monsters will see Malthouse Theatre Artistic Director Matthew Lutton collaborate with choreographer Stephanie Lake and Sydney-based writer Emme Hoy to create a chilling adventure into the darkness featuring stage and screen star Alison Whyte (Cloudstreet, The Bloody Chamber) and Stephanie Lake Company dancers.
Over four brief adrenalin filled acts, Alison Whyte portrays a woman who goes searching for her sister in a chasm that has opened below a city. Conjuring the journey deep into the cavern through haunting text, she encounters metaphoric monsters and a literal monster on the way down.
Three dancers – Samantha Hines, Josie Weise, Kimball Wong – move in and out of the set, a dark and gaping cave, as they evoke images of hallucinations and dreams that echo in the dark below the earth.
"I have been waiting and hoping to co-create a production with Stephanie Lake ever since I moved to Melbourne," said Director and Malthouse Theatre Artistic Director, Matthew Lutton.
"The idea to create a suspenseful and Gothic-like story drew us all together, and a passion to bring actors and dancers together in a way that makes you feel like you are dreaming while awake."
"I am thrilled to collaborating with Alison Whyte again and welcoming her back to the Malthouse stage."
"Whether it was warming our hearts as Oriel Lamb in Cloudstreet or scaring the pants off us in The Bloody Chamber, Alison is Malthouse royalty and one of the country's most transformative actors," said Lutton.
"What a thrill to be co-creating Monsters with Matthew Lutton and this brilliant team of performers and collaborators," said Artistic Director, Stephanie Lake.
"I've been a long-time admirer of Matt's work and after years of dreaming and scheming, it's such a joy to finally bring this show to the stage."
"With its fusion of choreography, text, sound and design, Monsters is a work that is bodily, visceral and frightening with a ripping story and magnificent dancing," said Lake.
Director: Matthew Lutton | Choreographer: Stephanie Lake | Writer: Emma Hoy | Featuring: Alison Whyte, Samantha Hines, Josie Weise, Kimball Wong | Set & Lighting Designer: Paul Jackson | Costume Designer: Kat Chan | Sound Designer: Marco Cher-Gibard | Composer: Rosalind Hall | Vocalist: Marjorie Hannah | Stage Manager: Lisa Osborn
---
Monsters
Merlyn Theatre – Malthouse Theatre, 113 Sturt Street, Southbank (Melbourne)
Season: 26 November – 11 December 2022 (previews: 24 & 25 November)
Information and Bookings: www.malthousetheatre.com.au
Image: Alison Whyte and Stephanie Lake Company dancers star in Monsters – photo by Tamarah Scott