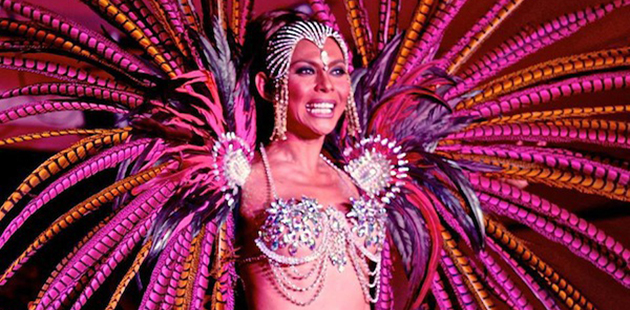 Two aspiring beauty queens in this year's Miss Gay and Miss Transsexual Australia 2015 beauty pageant have a special skill like no other contestant.
Miss Gay Australia 2015 candidate, Krista Herrington, a female impersonator with a hearing disability from Townsville, Queensland, and Miss Transsexual Australia entrant, Victoria Rivera Martin, a 24-year-old fashion designer and model from Sydney, New South Wales, are both expert lip-readers.
"Taking part in Miss Gay Australia 2015 is a wonderful opportunity for me to develop my self-confidence in a national beauty pageant that I would not be able to do in my everyday life, " said Ms Herrington. "I hope my experience as a showgirl impress the judges on the catwalk."
Ms Martin, who also has a hearing disability, is no stranger to beauty pageants. Last year, she took part in Divas and Queens International 2014, Miss Transsexual Australia 2014 and Mardi Gras Queen of the Night 2014.
"I'm here to show others that you can do just about anything in life," said Ms Martin. "Beauty comes from the heart. I want to show the world that I'm out and proud of who I am."
Both Ms Herrington and Ms Martin have nominated Deaf Australia as their advocacy platform in the pageant. If they win, they will become goodwill ambassadors and spokespersons for deaf and hard at hearing people across Australia during their reign.
"There are no disability restrictions to Miss Gay and Miss Transsexual Australia," says Pageant Director, Gayzha Davao. "We believe all contestants who satisfy the requirements of the pageant can take part. We encourage everyone to find their own unique beauty, talent and confidence and be the best they can be."
With its mission of raising awareness for better understanding and acceptance of transgender community, the pageant aims to crown not only the most beautiful transsexual and drag queen but someone who can represent and carry the torch  of equality and trans advocacy.
Miss Gay and Miss Transsexual Australia 2015 takes place at the Yarraville Club on Saturday 31 January. For more information, visit: msgaytsaustralia.wix.com/msgaytsaustralia for details.
Image: a contestant in the Miss Gay and Miss Transsexual Australia Pageant (supplied)