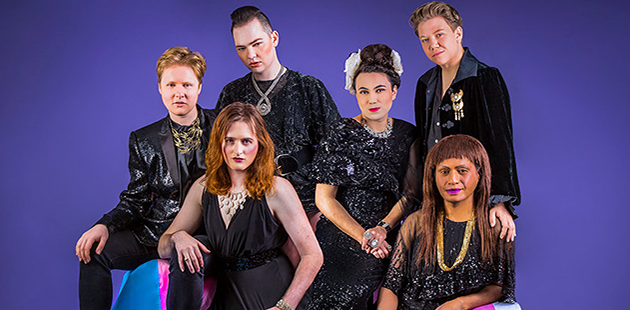 The 2019 Midsumma Festival​ will reveal itself in all its finery once again, bringing a kaleidoscope of preeminent queer arts and cultural festivities across Melbourne from 19 January to 10 February.
Celebrating LGBTQIA+ cultures since 1988, Midsumma Festival offers Melbourne audiences a diverse array of spectacular performances, exhibitions, talks and social events with leading international, national and local artists.
On the back of a hugely successful 2018 season under the direction of CEO Karen Bryant and her team, the 2019 Midsumma Festival will unite around the theme of BODY – a suite of programming for and by Victoria's trans, gender diverse and intersex communities.
Championing the notion that individuals should have sovereignty over their own bodies, this initiative amplifies the cultural voices of marginalised queer voices, allowing them to set their own social and political agenda.
"This year's Midsumma Festival represents diverse ideas that will reach out and stimulate us emotionally on many levels, and perhaps even change us in unexpected and profound ways," said Midsumma Festival CEO Karen Bryant. "We are also proud to be presenting major works by an intersex artist for the first time. This is the opportunity to choose your own festival adventure as you navigate your way across 23 days of Midsumma."
The heart of BODY will be pumping at Arts House across three days from 31 January to 1 February – as well as satellite events at Arts Centre Melbourne and Incinerator Gallery. One of the highlights is MDLSX by Motus – a revolutionary performance by international artist Silvia Calderoni, born intersex.
MDLSX explores gender and androgyny – a lysergic and solitary hymn to the freedom of becoming, to gender b(l)ending, to being other than the borders of the body, skin colour, sexual organs, an imposed or acquired nationality, a belonging to a Fatherland. Spilling out of all categories, even artistic ones, MDLSX is a theatrical trip set to the Smiths, Vampire Weekend, REM and Yeah Yeah Yeahs.
Another highlight comes from cabaret icons Maude Davey and Mama Alto – Gender Euphoria is an explosive and joyous new variety work which celebrates trans and gender diverse identities. Goodbye gender dysphoria – hello gender euphoria. From Raina Peterson whose critically acclaimed Bent Bollywood was a major hit in last year's festival, Third Nature is an opulent dance work.
One of the sell-out crowd favourites of Midsumma Festival, Midsumma Extravaganza returns in all its comic glory, boasting another fierce line up featuring Yummy, Zoe Coombs Marr, Mama Alto, Trevor Ashley, Carlotta, Joel Creasey and more, together with a rocking live band.
Acclaimed queer Tasmanian artist, designer and political activist David McDiarmid gifted handmade artworks to friends and loved ones throughout his lifetime until he died in 1995. Taking its cue from McDiarmid's generous logic, Queer Economies explores the non-monetary, in-kind economies that emerge within LGBTQIA+ communities in order to foster resilience, love and connection.
Midsumma Presents QueerTech.io once again, responding to the growing international inquiry into practices of #queertech in the digital art world. The visual arts exhibition will welcome artists from all over the world to explore provocations in the ongoing conversation at Testing Grounds.
Also part of Midsumma Presents is the inaugural Consent Festival – a special one-day event exploring conversations that connect ideas of consent with LGBTQIA+ communities through forums, workshops and sparkling performances.
The Open Access Program is packed to the gills with returning favourites and new treats. Highlights include Dolly Diamond presenting the world premiere of her homage to the incomparable Dolly Parton in Parton Me at Kew Court House. Directed by Cal McCrystal (The Mighty Boosh), disgraced actor Garry Starr defies his critics by performing every genre of theatre possible in Garry Starr Performs Everything at Howler.
Marie Antoinette meets Quentin Tarantino in the award-nominated show Madame Nightshade's Poison Garden at Gasworks Arts Park by Anna Thompson (POPOMOCO). Rebel at the Melba Spiegeltent is a live rock circus tribute to the original rebel, David Bowie. Stage dive into the mosh pit for a night of live music, glittering glam rock, phenomenal acrobatics, breathtaking aerials and spectacular heart-stopping sideshow.
The perfect backdrop for a summertime party in St Kilda, Truly Madly Britney at Theatre Works tells the tale of two boyfriends, Britney Spears fans and Savage Garden doppelgangers who embark upon a pilgrimage along the holy sites of Britney's 2007 breakdown.
A delicious new interactive cabaret banquet, Cake Daddy will plunge you belly-deep inside one gorgeous queer man's experience of fat/ness, laying bare both the fortitude and fabulosity required to step into the world as a fat person today.
Direct from the UK, hear powerful and often humorous secret stories exploring sexuality, vulnerability and desire taken from interviews with butches, masculine women, gender rebels and transmen living across the world in The Butch Monologues.
Strap yourself in for the premiere season of The Felix Monologues – bringing together celebrated queer theatre maker Gavin Roach's three one-man shows: Confessions of a Grindr Addict – Any Womb Will Do – Oh God, What If It's Me? – the way they are supposed to be seen.
Winner of Best Spoken Word at Sydney Fringe Festival 2016, the raucous, radical and funny world of QueerStories is fast becoming an institution around Australia. Enjoy and unexpected tale or two from a diverse line up of stars and strangers, hosted by Maeve Marsden. There's more to being queer than coming out and equal marriage!
In visual arts, Widgets and Doohickies from a Camp Toolbox at RMIT's Project Space/Spare Room considers camp to be an unstable suite of strategies available to the non-mainstream; and Let's Eat Cake exhibition and book launch at Melbourne City Library Gallery celebrates the marriage equality campaign from the historical marches in Melbourne and Sydney, through to the Canberra announcement in 2017.
This year Midsumma Festival is expanding its urban footprint, adding Theatre Works to its hubs, the mini-hub at Howler and returning hubs at Arts Centre Melbourne, Gasworks Art Park, and the Hare Hole. The Midsumma Festival Hubs are where you will find an event on every night of the festival.
Midsumma curated events also include Midsumma Australia Post Art Prize; the much-loved Midsumma Carnival on 20 January – which attracts 100,000 attendees annually; and Midsumma Pride March on 3 February 2019.
The 2019 Midsumma Festival runs 19 January – 10 February. For more information, and full program, visit: www.midsumma.org.au for details.
Image: Gender Euphoria – photo by Alexis Desaulniers-Lea