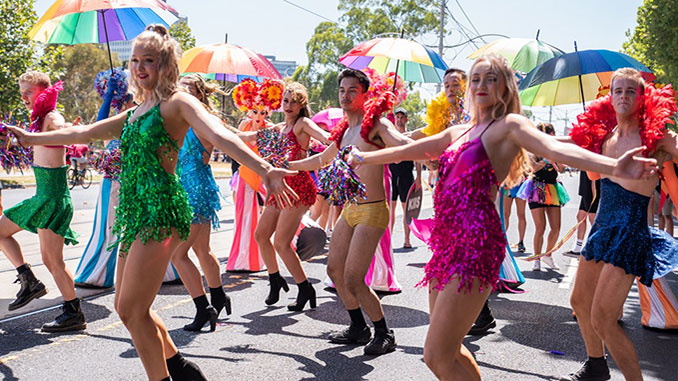 Australia's LGBTQIA+ arts and cultural experience, Midsumma Festival, will bring its second signature event, Midsumma Pride March, to Fitzroy Street, St Kilda on Sunday 23 May, in a colourful display of solidarity.
As the best-attended Pride March in Victoria, Midsumma Pride March usually sees over 7,400 marchers take to the streets of St Kilda each year, and over 45,000 people lining the streets and balconies along the march route to show their support.
To ensure the event can proceed in a COVIDsafe capacity, meeting the Victorian Government's restrictions, in 2021 Midsumma is encouraging audiences to attend and view the march in only two ways:
either by booking into a venue on Fitzroy Street, St Kilda to watch the parade from 11.00am; or
by viewing the parade from the comfort of your home via the Midsumma Festival live-stream available from the Midsumma Facebook Page.
Viewers will be able to take in the energy of lesbian motorcycle club Dykes on Bikes who are preceding the marching contingent as per tradition.
The march itself will be led by Boon Warrung Elders and a beautiful Rainbow Aboriginal Float along with the Premier of Victoria, Minister for Equality and the Creative Industries and Commissioner for Gender and Sexuality.
Also placed towards the front of the march will be hundreds of young people, often amongst the most vulnerable within our communities, as a positive and strong affirmation for LGBTQIA+ youth.
"The Midsumma Pride March is such a fantastic display of support and solidarity for the LGBTQIA+ community, especially heroing those who don't always have an opportunity to have their voices heard," said Midsumma CEO, Karen Bryant.
"The celebrations are such a powerful way to unite and bring our community together, closing our Midsumma Festival program for another year."
"As one of our most popular events in the Midsumma Festival program, we're so pleased we're still able to run the Pride March in 2021 while supporting local St Kilda venues and reach those in our community who are vulnerable or unable to physically be there," said Ms Bryant.
Also returning in 2021 are the hotly-contested Midsumma Pride March Awards, which encourage a bright and meaningful presence from participants with categories including Most Innovative, Most Fabulous and Most Significant Message. Winners are selected by a panel of diverse community representatives and are announced post-march.
---
The 2021 Midsumma Pride March takes place in St Kilda on Sunday 23 May. For more information, visit: www.midsumma.org.au for details.
Image: Midsumma Pride March – photo by Suzanne Balding