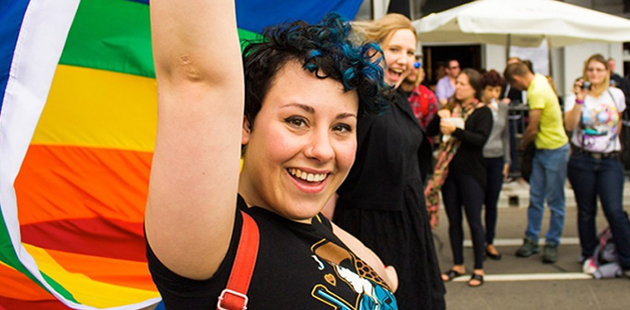 In a statement released by Midsumma Festival, it has informed the LGBTQIA+ communities, that after robust consultation, Midsumma will continue the current media partnership with the Herald Sun and Leader publications for the remaining 2017 Festival period.
Chief Executive Karen Bryant, members of the Midsumma Board and staff from the Midsumma team have undertaken a range of community consultation processes since the sponsorship came under recent scrutiny. It has been a complex process taking into consideration a broad range of factors regarding the partnership that has been in place since 2015. Midsumma thanks all of the participants who have assisted.
"We have taken time to consult broadly within our diverse communities rather than making a snap decision under extreme pressure," said John Caldwell, Midsumma Chair. "As leaders in the community, we have an obligation to make the best decisions for the organisation, even when faced with intense scrutiny and I am confident we have made the right choice.  I respect each and every view raised by our stakeholders and look forward to continuing to work with the wider community into the future."
As part of the Midsumma consultation process, a survey was sent to Midsumma's financial members, life members and subscribers outlining community concerns, and which asked six questions including whether Midsumma should continue the partnership with News Corp. The results of the survey sent to members showed 80% in favour of retaining the partnership for 2017. The results of the same survey sent to subscribers showed 56% in favour of retaining the partnership for 2017.
In addition to the surveys, Midsumma has undertaken direct consultation with a range of LGBTQIA+ community leaders and representatives of organisations identified as impacted upon by the issue. Whilst the majority of those consulted have expressed support for the Festival to continue with the existing partnership for now, Midsumma board and staff has heard clearly that there remain concerns about editorial opinion articles produced by News Corp publications that are offensive to many LGBTQIA+ community members, and issues close to them.
Midsumma is committed to working proactively to maximise positive outcomes for the Festival and broader community throughout the coming event and the partnership will be reviewed at the conclusion of the 2017 event with regards to value and outcomes.
"Midsumma recognises the important role that it plays as a key LGBTQIA+ organisation," said Karen Bryant, Midsumma Chief Executive. "We take our responsibilities very seriously and strive very hard to provide safe spaces, positive messaging and profile for our diverse communities. We believe strongly in active positive engagement and education with regards to all of the partnerships and relationships we have in place."
"I accept that there will be some who will be dissatisfied with this outcome. However at this time, with only a matter of weeks to January, the Midsumma team must now be able to get on with operations and the business of supporting and promoting the many independent LGBTQIA+ artists and community groups who will feature in Midsumma Festival 2017. We hope you will join us in that support."
The 2017 Midsumma Festival 15 January ­– 5 February. For more information, visit: www.midsumma.org.au for details.