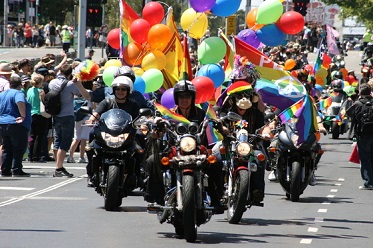 Midsumma Festival and Pride March are cornerstones of GLBTI community events in Victoria and kick off the Australian GLBTI calendar each year. Both organisations have worked incredibly hard over past years to produce events that celebrate the diversity and passion of our community.
In previous years the cost and effort required to produce the annual Pride March in St Kilda has exceeded both available funds and resources. Late 2013 Pride March and Midsumma met to discuss the various opportunities to leverage the existing resources and infrastructure used by other events during the annual Midsumma Festival.
During these discussions it became apparent that tangible synergies exist between the two organisations. A working group was established consisting of board members from both Midsumma Festival and Pride March Victoria to review what these opportunities were and how significant the benefits could be.
The recommendation from this review is for Midsumma Festival to take over production of the annual Pride March. This change will see Pride March retain its place as a prominent Midsumma event while gaining the much-needed attention by being managed by a team of paid staff members and dedicated volunteers. Other benefits of this arrangement include:
• Leveraging existing insurance and safety arrangements managed for the entire Midsumma Festival;
• Pride access to Deductible Gift Recipient (DGR) tax arrangements as part of Midsumma;
• Year round engagement with the broader community;
• Access to a board of volunteers experienced in securing funding from a variety of sources; and
• Achievement of ongoing event sustainability.
The boards of both organisations have scheduled simultaneous Special General Meetings to present this recommendation to be voted on by the respective member bases. If accepted as – Pride March Victoria would cease to exist as a separate entity with all property transferring to Midsumma Festival Inc.
Midsumma would then obtain the rights to the name Pride March Victoria and include in its constitution a commitment to include an annual pride march in the is listed in the Midsumma constitution, so this is a significant act of recognition of the importance of the Pride March, both in its own right, and to Midsumma.
The boards of both organisations have reviewed this recommendation and the submission to their members signifies a unanimous decision to move forward and become fully integrated with Midsumma.
For more information, visit: www.pridemarch.com.au or www.midsumma.org.au for details.
Image: by Dean Arcuri