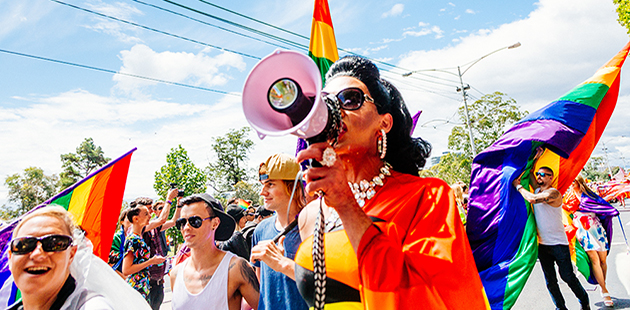 Midsumma Festival returns to Melbourne in all its wild finery this summer, bringing a wave of pre-eminent queer arts and cultural festivities from 14 January to 4 February 2018. Since its debut in 1988, the three-week event has celebrated the LGBTQIA+ communities, offering audiences a diverse display of spectacular performances, talks and social events.
On the back of a hugely successful 2017 season under the direction of CEO Karen Bryant and her new team, in 2018, Midsumma Festival will continue to offer a significant focus in several key areas including: access for disability cultures; First Nations engagement; a spotlight on youth and other more marginalised parts of the LGBTQIA+ communities.
Initiatives include a tactile installation at Midsumma Carnival, created by Slow Art Collective in collaboration with Description Victoria – giving low vision attendees the chance to soak up the atmosphere more than ever before; and working with Victoria's NAIDOC team in 2017 to 'crown' two Indigenous community members to lead Pride March 2018 alongside elders.
"For the 2018 program we have an increased amount of open-access registered events – at least 30% on 2017 – as we work more deeply with parts of our communities who may not have had as much engagement previously," explains Karen Bryant. "It also says to me that right now, in the current political climate surrounding the postal survey, our communities feel the need to connect with each other more than ever; to express how they feel through their art and cultural events.
The open-access festival features another stellar line up in 2018 with more than 170 events which promote and develop queer arts including theatre, dance, film, music, drag, sport, talks, visual art and parties.
On the larger stages, Midsumma is proud to announce the inclusion of Priscilla, Queen of the Desert – the Musical at the Regent Theatre in its program, starring Tony Sheldon, Euan Doidge and David Harris on its glitter-laden 10th anniversary celebration tour.
From the West End, leading man to time-travelling hero John Barrowman – famous for his role in British sci-fi series Arrow and his portrayal as the charming Captain Jack Harkness in BBC's Doctor Who and Torchwood – will grace the stage of Hamer Hall singing his best loved show tunes for Midsumma audiences.
The Greatest Love of All: The Whitney Houston Show at the Athenaeum is expected to be a hot ticket – featuring the breathtaking vocals of Belinda Davids – winner of BBC's Even Better Than the Real Thing; Panti Bliss returns to Arts Centre Melbourne in a disorderly cocktail of party and politics, that is RIOT; and the Crown Prince of Comedy, Joel Creasey will introduce you to the queer A-list of comedy in the Midsumma Comedy Extravaganza in the Fairfax Studio.
In the visual arts category, another expected highlight is notorious internet sensation Trophy Wife Barbie who has enjoyed a rapid growth in popularity on social media, with over 200 thousand followers on Instagram. The exhibition will be the first solo venture for concept-driven artist and creator Annelies Hofmeyr, who brings both original and never-before-seen pieces to her Midsumma exhibition.
"We always look for new perspectives, and the program is full of contemporary work, yet we never forget the value of our past," says Program Manager, Daniel Santangeli. "This has actually become a bit of a theme for the 2018 festival, especially involving collaborations with the Australian Gay and Lesbian Archives and State Library Victoria"
Other highlights of the 2018 Festival include: Dolly Diamond's 15 Year Anniversary Gala; StageArt presents William Finn's award winning musical, Falsettos; join the ultimate dress-up mini-fest in Forty Years of Kate Bush, Helpmann Award-winner Michael Griffith presents Lucky: Songs by Kylie; Yana Alana's alter-ego Queen Kong and her band the HOMOsapiens will be launching her new single at the Northcote Social Club; and the team at YUMMY have curated a special Midsumma season, Summer Treats!
Jason Chasland will cast his spell in Leather Lungs: Son of a Preacher; join Phillip Lee Curtis on an audio visual journey of self-discovery in Ego Jacket; Gasworks presents Oscar Wilde's brutal and touching De Profundis; fortyfivedownstairs presents Tommy Murphy's contemporary Australian classic Strangers in Between; and Red Stitch presents the Melbourne premiere of Taylor Mac's subversive comedy, Hir.
Festival curated events include the Midsumma Australia Post Art Prize; the much-loved Midsumma Carnival on Sunday 14 January – which attracts 100,000 attendees annually, and the Midsumma Pride March returns to Fitzroy Street, St. Kilda on Sunday 28 January.
The 2018 Midsumma Festival runs 14 January – 4 February. For more information, and complete program, visit: www.midsumma.org.au for details.
Image: Midsumma Pride March – photo by Asanka Brendon Ratnayake